Jay Cutler has come out of retirement to sign a one-year deal with the Dolphins, the team announced on Monday. The deal was first reported by ESPN's Adam Schefter (via Twitter). Schefter tweets that Cutler will earn $10MM, plus incentives, in 2017, and Jay Glazer of FOX Sports tweets that the incentives could raise the total value of the contract to $13MM.
Cutler's base salary will be $5MM, Armando Salguero of the Miami Herald reports. With incumbent Fins backup Matt Moore making $1.75MM in base salary, this suggests Adam Gase expects his former pupil to become the starter and also suggests that Ryan Tannehill will miss an extended period of time.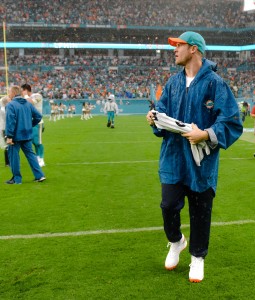 Salguero reports Tannehill, again, has a partially torn ACL. The sixth-year passer suffered the same injury late in the 2016 regular season. It's uncertain if the Dolphins' franchise passer will undergo surgery this time to repair the damage or opt for more non-surgical treatment, but he will be out for a while.
Tannehill, 29, spent the past several days consulting with experts about continuing to delay a surgery instead of going under the knife and ending his season, per Salguero. The Miami-embedded reporter adds Tannehill is likely to need surgery, because Cutler didn't want to step into a situation where Tannehill would come back this season. As of now, Tannehill is almost certain to miss the season, with Salguero tweeting the start of the 2018 campaign is in question.
In Cutler, Dolphins managed to sign a quarterback who possesses high-end physical tools (even if other aspects of Cutler's game have been scrutinized) and knowledge of Gase's system. The 34-year-old, who retired from football in May after receiving limited interest as a free agent, has a good relationship with Gase from their time in Chicago in 2015. Then the Bears' offensive coordinator, Gase helped Cutler to one of his best seasons, in which he completed 64.4 percent of passes, averaged 7.58 yards per attempt and threw 21 touchdowns against just 11 interceptions.
This saga went in a different direction than an ESPN report indicated it probably would on Saturday. Cutler will pivot away from the FOX job he secured earlier this year. And, after piloting some lower-profile Bears teams during his final few seasons in the Windy City, the former first-round pick will become a key component in the AFC playoff race.
The closest Cutler came to a post-Chicago landing spot was with the Jets, who had some interest but did not want to pay franchise-passer money and opted for ex-Cutler teammate Josh McCown instead. Now, Cutler will be thrown onto a playoff-contending outfit. And the skill-position cadre of Jay Ajayi, Julius Thomas, Jarvis Landry, Kenny Stills and DeVante Parker stands to double as one of the best in Cutler's now-12-season career.
Cutler has one Pro Bowl to his credit, with the 2008 Broncos, and has guided a team to one playoff berth (2010 Bears). His salary will place him in a barely explored middle ground between backup quarterbacks and franchise starters. Cutler's $10MM in 2017 places him 22nd among quarterbacks, in between the previous gulf that existed between Mike Glennon and Tyrod Taylor in this hierarchy.
Tannehill will earn $20.3MM in 2017, making the Dolphins more committed to two passers financially than any NFL team.
Sam Robinson contributed to this report.
Photo courtesy of USA Today Sports Images.
Follow @PFRumors