Adrian Peterson is happy to have left the Saints. But, he also says that he did not force his way into a trade sending him to the Cardinals.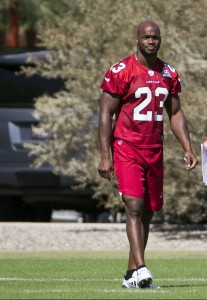 "I'll be lying to you to say that I didn't want a change of scenery after four weeks of seeing how things played out," Peterson said (via ESPN.com's Josh Weinfuss). "So, yeah, it was something that I was praying about — 'Hey, God, I need you to answer this prayer for me. Are you listening to me?' But in the midst of that, I was still tuned in and locked in. I had a great day of practice Monday, great day of practice. It was hot, too. It was outside. It was a good day. It was rough, but I was still locked in and taking care of my business, and the prayer was answered."
Peterson is jazzed about the fresh start, but it's not clear exactly what the Cardinals will be able to get out of him. Last year, Peterson spent the majority of the season hurt and averaged only 1.9 yards per carry when on the field. Meanwhile, he's not getting any younger and while some quarterbacks seem to age like fine wine, running backs tend to age like seafood. Despite what the critics have to say, the 32-year-old insists that he has plenty left in the tank.
"I have so much left," Peterson said. "I look to play at least four to five more years, God willing. I have a lot left in the tank. Stay tuned and you guys will be able to see that first-hand."
We'll soon find out what Peterson is capable of, starting with Sunday's game against the Bucs.
Photo courtesy of USA Today Sports Images.
Follow @PFRumors