Reports that the league's owners could force Jerry Jones to sell the Cowboys are ""laughable and ridiculous," Jones told 105.3 The Fan (transcription via Kate Hairopolos of the Dallas Morning News).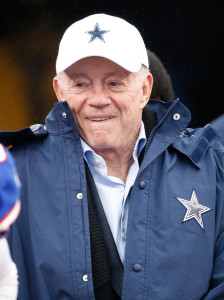 "I've had not one, not one, inkling of communication from the league office or any owner that would suggest something that laughable and ridiculous, and that's about where that is," Jones said on his radio show on Tuesday. "If somebody is asserting that then they are not knowledgeable about how things work in the NFL."
The notion that Jones could be forced to part ways with the Cowboys does seem pretty far fetched. However, the league's owners could move to bring other sanctions against Jones for his crusade against commissioner Roger Goodell. Among the measures being discussed are fines, a suspension, or a loss of draft capital for the Cowboys, Mark Maske of The Washington Post (Twitter link) hears. Maske's sources did not mention a scenario in which Jones is made to sell the Cowboys, however. It's also not a given that Jones will be penalized at all, though it is at least being talked about.
For his part, Jones feels that the league's owners have "all the time in the world" to extend Goodell and he doesn't want the deal to be completed in haste given that the commissioner still has 18 months left on his current contract. The Cowboys owner asserts that more than half of the league's owners are in his corner on this matter.
Photo courtesy of USA Today Sports Images.
Follow @PFRumors