The Panthers have placed interim general manager Marty Hurney on paid leave following allegations of harassment from his ex-wife, according to Joseph Person of the Charlotte Observer.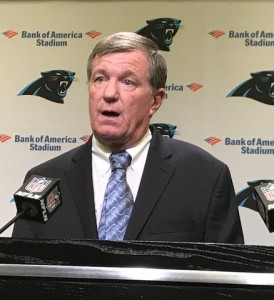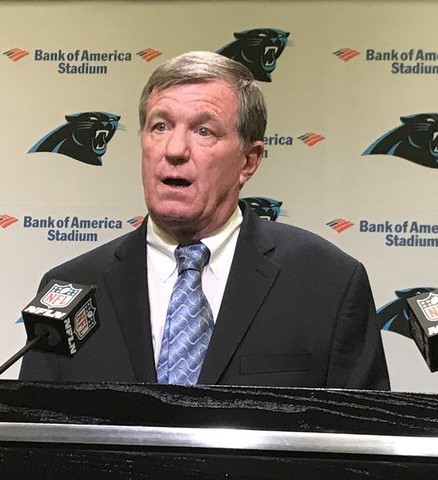 Hurney's ex-wife, Jeanne, originally filed for a restraining order last Friday, but a judge denied the request given there was no evidence Hurney committed domestic violence. A new hearing had been set for February 16, but given that Jeanne has since withdrawn her complaint, that hearing will not actually occur. The NFL still plans to investigate the allegations regardless of how the judicial process plays out.
While there are no assertions of domestic violence in Jeanne Hurney's complaint, she does claim Marty Hurney was "extremely controlling and was verbally and emotionally abusive" during the couple's marriage. Additionally, Jeanne alleges: her computer and security system have been hacked; Marty or his associates have broken into her home; intruders have places sticky notes in her books, highlighting words such as "victim" and "terrorize."
Marty Hurney's lawyer has called Jeanne's complaints "complete fiction," but it's fair to wonder how the claims will affect Hurney and his status in Carolina's ongoing general manager search. Hurney, who was named the club's interim GM after Dave Gettleman was fired in 2017, had been viewed as the frontrunner for the position. Other candidates for the role include Lake Dawson (Bills), Martin Mayhew (49ers), and Jimmy Raye III (Texans).
The Panthers, of course, are no strangers to harassment-related controversy, as team owner Jerry Richardson was accused of inappropriate sexual and racial comments in December. Richardson quickly ceded control of the club, and announced his intention to sell the Carolina franchise once the 2017 campaign concluded.
Photo courtesy of USA Today Sports Images.
Follow @PFRumors