Dwight Freeney is calling it a career. After 16 seasons in the NFL, Freeney will sign a one-day contract with Indianapolis to retire as a member of the Colts.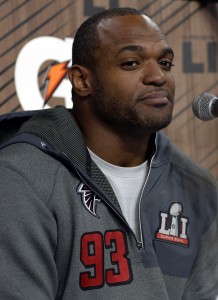 Freeney entered the league as the No. 11 pick in the 2002 NFL Draft. Since then, he has racked up seven Pro Bowl nods, three first-team All-Pro selections, and a Super Bowl ring.
Freeney, 38, will be best remembered for his time in blue and white, where he amassed 107. 5 sacks across eleven seasons. All in all, he has 125.5 career sacks to his credit, tying him for 17th all-time in NFL history.
The Colts averaged 11 wins per year during Freeney's run with the Colts and had 11 sacks in his 22 playoff games with the team. Many thought the Colts were reaching when they selected Freeney in '02, but he turned out to be the perfect fit for first-year head coach Tony Dungy.
"Bill [Polian] had seen Dwight and thought he was exactly the guy I had been talking about," Dungy said of Freeney. "We're sitting at No. 11 in the first round and people looked at his size and thought it was too high to draft him. Bill, to his credit, said, 'If this is going to be the big piece of the puzzle, let's not worry about where we take Dwight and what other people think. Let's get the guy who is going to be the perfect piece.' Dwight was the straw that stirred the drink."
The Syracuse product played in three Super Bowls — two with the Colts, one with the Falcons — and started in 19 postseason games. All seven of Freeney's double-digit sack seasons came with the Colts.
Following his Colts run, which ran through the 2012 season, Freeney played with five more teams. His most notable post-Indianapolis season came with the 2015 Cardinals, for whom he registered eight sacks and helped to the NFC title game despite being an off-the-bench edge rusher. He recorded three sacks in each of the past two seasons, playing in Atlanta, Seattle and Detroit. Prior to Arizona, Freeney spent two seasons in San Diego.
Photo courtesy of USA Today Sports Images.
Follow @PFRumors