The slow development of the safety market has been one of the major storylines of the offseason, and while there are a number of reasons as to why some of the top available players at the position remain unsigned, it is still surprising to see players of their ilk without work at this point in the league year. Indeed, three of PFR's top 10 remaining defensive free agents are safeties, and we would like to know which one you think will be the first to sign with a club.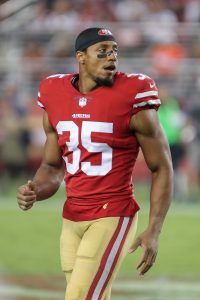 Our top-rated defensive player still available, Eric Reid, could be having difficulty fining a team because of his history of protesting the national anthem. Indeed, the only team that has brought him in for a visit, the Bengals, asked him about his plans in that regard moving forward. But Reid's fellow free agent safeties on our Top-10 list, Tre Boston and Kenny Vaccaro, have not made the same public stances — though Boston was fairly outspoken following the shooting death of Keith Lamont Scott by a Charlotte police officer two years ago — and they haven't had any better luck, so it could be his status as a safety, more so than his status as a political activist, that is dampening Reid's market.
Of course, Reid himself feels differently, and he has filed a collusion grievance against the NFL. That will surely not help his cause, but on the field, Reid is a solid and versatile player capable of playing either defensive back or linebacker. His skillset would fit nicely on a team like the Cardinals or Buccaneers.
Boston, meanwhile, has drawn interest from a number of clubs, and he is coming off the best season of his career. He is far from a perfect player, but he does have the ability to play deep safety, and he picked off five passes for the Chargers in 2017. He appeared to be coming into his own after being released by the Panthers last year, and while he is not great in coverage, he has shown that he can at least be serviceable in that regard. He is also a capable pass rusher.
Vaccaro, on the other hand, was terrible in coverage in 2017, but he has shown the ability to line up at safety or at slot corner in his career, and he could theoretically play linebacker in sub-packages as well. He recently met with the Colts, and two weeks ago we heard that he was going to meet with the Jets, though it is unclear whether his summit with Gang Green has actually happened yet. He met with the Dolphins earlier in the offseason, but after the Fins used their first-round pick on Minkah Fitzpatrick, they are probably no longer interested in Vaccaro.
Again, these three players are not without flaws, particularly in coverage, and with the league moving further and further away from traditional in-the-box safeties, maybe we shouldn't be as shocked that they remain without work. After all, younger players on rookie contracts frequently offer a strong presence in the run game while they work on their coverage skills, so it could be that teams just don't want to pony up the cash for a veteran to do the work that a less experienced player can do.
Presumably, however, Boston or Vaccaro will eventually find a new team, and Reid may as well, despite his grievance. Let us know which of them you think will sign first, or if you think another safety like Corey Graham will get a chance before they do. We'd also like you to explain your choice in the comments section and let us know what you believe is holding up the safety market.
Photo courtesy of USA Today Sports Images.
Follow @PFRumors