Aaron Donald is staying away from Rams workouts for a second straight offseason. But some big names are now in the picture for new Rams deals, creating a more complex situation.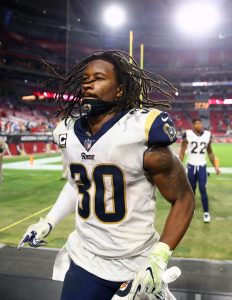 Todd Gurley and Brandin Cooks are each in different situations with the franchise, but each appears on the docket for a big contract. However, Donald's process will supersede these talks, per Ian Rapoport of NFL.com (video link). Considering how long it took Donald to merely report to the Rams last year, this delay could be interesting.
As for the Donald talks, no significant progress is being made despite the previously expressed optimism a deal will be done. Rapoport reports that the start of training camp looks like a better benchmark to gauge these discussions. So, it doesn't appear a deal is particularly close.
Donald is surely gunning for a contract that bumps Von Miller's six-year, $114.6MM accord as the richest for a defender in NFL history, and Les Snead's acknowledged the team will have to agree to that. It's uncertain, though, how far into franchise-quarterback money Donald's camp wants this new deal to land.
Gurley has two years remaining on his contract, after the Rams picked up his fifth-year option, and the recently acquired Cooks is entering his option season. No NFL team gave a 2014 first-rounder a deal prior to that first-round class' fifth-year option seasons transpiring, so a Gurley pact prior to his may be a long shot. A Cooks pact prior to the deep threat playing a down for Los Angeles could be as well. But the Rams have not been shy about acquiring rookie-contract players expecting big deals in the near future, with Marcus Peters also profiling as such, and they now have Ndamukong Suh on a one-year agreement.
But in terms of deadlines, Lamarcus Joyner's does come first, with the date for franchise-tagged players looming July 16.
It's unclear where the safety's talks reside, but he signed his franchise tender and has been working out with the team during the offseason. Donald continues to stand as Los Angeles' clear top priority, and the Rams' $2MM-plus in cap space represents the lowest figure in the league presently. This will not be an easy matrix to navigate for a franchise that clearly believes, judging by the bevy of win-now moves over the past few months, it can win Super Bowl LIII.
Follow @PFRumors