After spending the better part of Champ Bailey's 10-year run in Denver trying to find a quality complementary cornerback, the Broncos landed two during a 2014 offseason in which they cut Bailey. And for the past four years, no team could match the Broncos' cornerback trio of Chris Harris, Aqib Talib and Bradley Roby.
This coming season will feature a different Denver secondary, however. The Broncos traded Talib to the Rams and signed Tramaine Brock to likely slide in as their new No. 3 corner. With Harris a proven starter, eyes will shift to Roby as he becomes a full-time first-unit player for the first time.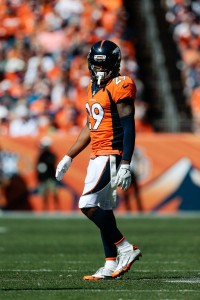 He's entering a pivotal year for his future with Talib out of the picture. Likewise, the Broncos will see how their pass defense changes without Talib and will be eyeing Roby's viability as a long-term cog. No extension talks have been known to have taken place this offseason. Roby's salary spikes to $8.53MM on the fifth-year option, which is part of the reason the Broncos traded Talib and his $12MM cap number.
Denver's right cornerback the past four years in sub-packages, Roby has both been a key presence on one of the best pass defenses in modern NFL history and enjoyed the odd distinction (for a former first-round pick) of being the third-best corner on his own team throughout that span. However, Roby's held his own while teams largely tried to avoid Harris and Talib. In 674 snaps, Roby graded as Pro Football Focus' No. 25 corner last season.
The Broncos are still relying on their Super Bowl 50 core, but they don't have much of a future nucleus in place just yet. Despite having an integral role on the 2014 and '15 Broncos teams that made the playoffs, Roby at 26 would fit the profile as a player to build around going forward.
On one hand, it would make sense for the Broncos to initiate talks with Roby now to see if they can get him locked down on the kind of team-friendly deal Harris signed in late 2014. After all, he held the same role for four seasons to give the team a solid glimpse of his capabilities. But given the kind of corner contracts handed out the past few years, it would also be logical for Roby to bet on himself and hope he can firmly place his price into the eight-figure-per-year range with a strong season as a starter.
The Logan Ryan/Dre Kirkpatrick/Jimmy Smith tier ($10MM-$11MM AAV) would be well within range for Roby if he thrives as a starter, with a possibility of a climb to a slightly higher perch — on a 2019 cap that can be expected to approach $190MM — likely in play as well.
While a Roby deal would keep part of the Broncos' corner cast together, the team would also would seemingly have to address Harris. The All-Pro corner has played on an incredibly favorable deal for the Broncos the past three seasons and would be entering a contract year in 2019. The 29-year-old former UDFA proved to be the Broncos' most consistent defensive back when he, Talib and Roby played together. And if Roby receives an extension, Harris would figure to justifiably ask for more on his next deal — if it comes from the Broncos. Denver also drafted third-round CBs the past two years in Brendan Langley and Isaac Yiadom. This route would provide an alternative to a future with two high-level cornerback contracts on the books, but Langley struggled in limited time as a rookie and Yiadom has yet to play a snap.
Also complicating a Roby re-up are the walk-year statuses of Matt Paradis and Shaquil Barrett — PFF's top two overall RFAs from this past offer sheet window — along with the Broncos' projected $9MM of 2019 cap space. Of course, some of their veterans' contracts become easier to shed after this season, opening up flexibility in the event the Broncos believe they can retain Barrett and Paradis. Considering Miller and Bradley Chubb are signed long-term, that might not be feasible if Barrett has a strong contract year.
Of course, with corners and edge rushers being Denver's calling card post-Peyton Manning, ensuring two quality outside cover men are still on the roster after this season could be a high priority for a team looking to maximize an older nucleus' primes.
Photo courtesy of USA Today Sports Images.
Follow @PFRumors