Roquan Smith is officially in the fold. On Tuesday morning, the Bears announced that Smith has signed his rookie deal.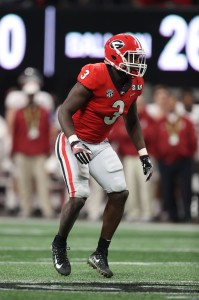 The Bears, predictably, did not release the details of Smith's pact, but per the terms of his slot, we know that the No. 8 overall pick has received a four-year, $18MM guaranteed pact. And, via Mike Florio of PFT, we have the details on his guarantee structure in the event of discipline.
The two sides hammered out a formula that protects Smith against most of the potential incidents that would take place on the field. Smith's guarantees will void only if the league office suspends him for three games or more for something that would happen during a play, such as lowering his helmet or roughing the quarterback. That's not a cumulative three games, so Smith can be suspended for one or two games multiple times throughout his contract without forfeiting guarantees.
If Smith is suspended for one game for a post-play infraction in which he's defending himself or a teammate, he'll maintain his guarantees. For two games, however, he'll forfeit them. If he's deemed to be the aggressor in a post-play incident and suspended for one game, he will lose his guarantees.
Ultimately, the Bears had to deviate quite a bit from the standard language in order to get Smith on the practice field. It's not ideal for Chicago, but the team is undoubtedly relieved to have its top draft pick under contract.
Photo courtesy of USA Today Sports Images.
Follow @PFRumors