The Browns announced they've released Mychal Kendricks. The 27-year-old linebacker was charged with insider trading earlier on Wednesday and if convicted could face up to 25 years in prison.
"Prior to signing Mychal, we were informed that there was a financial situation that he had been involved with in 2014. We were told Mychal had fully cooperated with investigators as a victim," GM John Dorsey said in a statement. "From what was communicated at that time and based on the numerous questions we asked and further due diligence on our part, including checking with the league office, there was no information discovered that conveyed otherwise.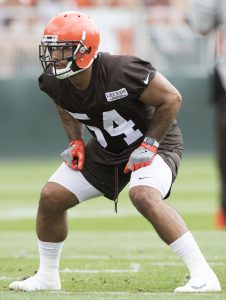 "Recently, we were provided an update on the matter and the circumstances have changed. We are now dealing with a different set of facts and the additional information we've gathered has led us to the decision to release Mychal from our team."
The Browns knew Kendricks was involved in a federal investigation upon signing him earlier this year, Mary Kay Cabot of cleveland.com reports. However, both Cabot and the Associated Press' Claudia Lauer report the team did not know the extent of the investigation. Kendricks' camp led the Browns to believe the 27-year-old defender was not the target of the probe and wouldn't be facing a situation like the one he's in now, Cabot reports.
Kendricks admitted wrongdoing in a scheme that went into effect four years ago. In addition to the possible lengthy prison term, he faces a $5.25MM fine, per Lauer. Both Kendricks and Damilare Sonoiki, whom U.S. attorney William M. McSwain said orchestrated the trades, are expected to plead guilty soon, according to Philly.com. Sonoiki helped Kendricks turn $80K in a brokerage account into $1.2MM in less than five months, detailed in the charges (via Yahoo.com's Charles Robinson, on Twitter). Kendricks said he did not use any of these profits will pay back all funds obtained illegally.
"Since the beginning of the investigation, I have fully cooperated with the authorities and will continue to do so," part of Kendricks' statement read. "I accept full responsibility for my actions. Although I did not take any of the profits for myself, I am committed to repaying all of the funds gained illegally and accept the consequences of my actions."
The Eagles released Kendricks earlier this year after he hovered on the trade block for multiple offseasons. He'd recently helped Philadelphia secure its first Super Bowl title by working as a three-down linebacker for most of last season. With the Browns, he joined a deeper linebacker corps but was expected to play plenty. He signed a one-year deal worth $2.25MM.
Photo courtesy of USA Today Sports Images.
Follow @PFRumors