After a disastrous 45-10 loss to the Broncos on Thursday night, the Cardinals fired offensive coordinator Mike McCoy. To replace him, the Cardinals promoted quarterbacks coach Byron Leftwich.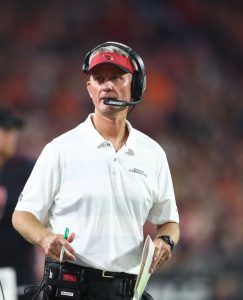 McCoy's job security has been a topic of discussion for weeks. Through seven games, the Cardinals have averaged just 13.1 points per game, which ranks 31st in the NFL. They're also dead last in total yards per game, third-down conversion percentage, time of possession, and rushing yards. Something had to give, and the embarrassing loss to Denver was the straw that broke the camel's back.
It's an ironic end to McCoy's tenure in Arizona since the Broncos fired McCoy in the midst of the 2017 season. Denver started off strong with a 3-1 start last year, but the team lost patience after a six-game losing streak knocked them out of playoff contention. This year, the Cardinals had enough after a 1-5 start and an embarrassing primetime loss in which Josh Rosen lobbed his third, fourth, and fifth interceptions of the year.
Leftwich, the Jaguars' longtime quarterback, was brought in by former coach Bruce Arians as a coaching intern in 2016. Last year, he was hired as the team's quarterbacks coach. Leftwich doesn't have previous OC experience, but he did call plays in a couple of 2017 exhibition games.
"I'm a pretty confident guy, but I had never done it, and I had never practiced it," Leftwich said of his OC audition. "That's the tough part. Knowing B.A., B.A. ain't going to give you two weeks in practice to prepare. He gave me a 10-play period to call them. The first time I ever called plays was in the game. I wish I would have done a few things here and there better, but that's the exciting part of growing in this business. That helped my growth."
Leftwich will make his OC debut on Sunday, Oct. 28 against the 49ers. After that, the Cardinals have a Week 9 bye.
Photo courtesy of USA Today Sports Images.
Follow @PFRumors