On Thursday, Browns head coach Hue Jackson told reporters there have been no discussions about trading quarterback Tyrod Taylor before the Oct. 30 deadline. When pressed further, Jackson shrugged off the notion that Taylor would not finish the year in Cleveland.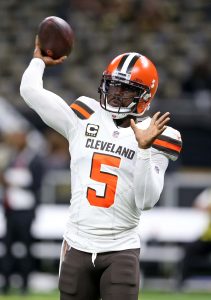 "I do [expect him to be with the Browns all season], until someone tells me something differently," Jackson said. "He is our backup quarterback."
For his part, Taylor admits that he's frustrated with his No. 2 QB role, but he refuses to complain to management or demand a trade. It's not hard to read between the lines and see that Taylor would prefer to be a starter elsewhere rather than Baker Mayfield's clipboard holder in Cleveland.
Taylor has just one year to go on his deal, which would make him a logical rental for another club. The Browns would also save a bundle by moving him. Taylor has already collected on his $6MM roster bonus, but a trade would allow them to escape the prorated portion of his $10MM base salary.
The trouble is, there may not be a robust market for Taylor's services. The Dolphins will be without Ryan Tannehill for an unknown period of time, but they have every reason to stick with Brock Osweiler after last week's OT victory over the Bears. The Bills, in theory, could use a QB while Josh Allen heals up from a UCL injury, but it's hard to picture that reunion going down.
If the rest of the league would utilize Taylor as a strong backup quarterback rather than a starter, it's hard to see the Browns getting much of a return. The Jets got a third-round pick for Teddy Bridgewater in August, but Bridgewater had a first-round pedigree and a much cheaper contract. Moving Taylor might not yield much in the way of draft compensation, and it would mean losing out on one of the more talented backups in the NFL.
With all of that in mind, do you think the Browns should trade Taylor before the deadline? Click below to cast your vote and back up your opinion in the comments. (Link for app users.)
Follow @PFRumors