Cowboys defensive tackle David Irving has yet to suit up for the Cowboys this season and an ongoing issue could prevent him from contributing to the club going forward, as Brandon George and David Moore of the Dallas Morning News write. Irving is entangled in a custody battle for his daughter and was recently served with a restraining order from the mother of his child.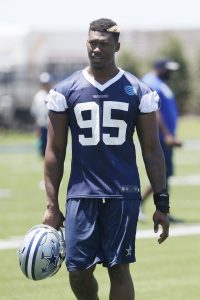 Irving was served with the temporary restraining order in early October. He did not take kindly to it, and reacted angrily towards the female processor. The defensive tackle yelled at the woman, waived the paperwork in her face, and may have made contact with the processor using the documents. Authorities are investigating the incident and may charge him with "offensive touching," a misdemeanor.
Irving's ex-girlfriend Angela Sanchez is seeking full custody of their child and wants the ability to take her daughter back to her home in California. That doesn't sit well with Irving, and perhaps doesn't bode well for his ongoing efforts to remain sober. Irving's marijuana use landed him a four-game suspension to start the season, but he has not been consistently practicing with the team since being reinstated. His Cowboys teammates are understanding, but are also eager to see him rejoin the club.
"He's got to show up," defensive lineman Tyrone Crawford said. "He's got to show up to practice to play. He knows that. We know that. It's obvious you have to know what we're doing during the week. I feel like when he comes in he'll get everything he needs to know to get out there on Sunday. "The issues that are going on with David are things that have to be handled, and that's what he's doing. He's handling that. I don't fault the man for handling what he has to handle as a man."
Luckily for Crawford and the Cowboys, it sounds like things are trending in the right direction. Irving reported to the team on Thursday and coach Jason Garrett expects him to practice (Twitter link via Clarance Hill of the Star Telegram). If all goes well, it's possible that Irving will rejoin the Cowboys for their Sunday showdown with the Jaguars.
Photo courtesy of USA Today Sports Images.
Follow @PFRumors