It's been more than two months since David Irving was released by the Raiders, and the veteran defensive lineman is still looking for his next gig. Speaking with reporter Aaron Wilson, the free agent said that his next team will be adding a motivated, talented player.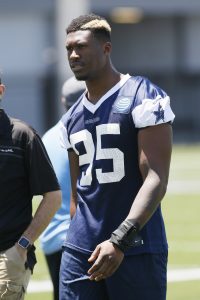 "I want to show people who David Irving really is," the 27-year-old said (via Wilson on Twitter). "I'm a fighter. I want to dominate, and it's a different mindset. I'm feeling explosive and I'm ready for anything that comes by way. I'm ready to play and I can't wait to play football again."
After getting reinstated by the NFL from his indefinite suspension back in October, Irving ended up catching on with the Raiders for the 2020 campaign. He spent time traveling between the active roster and the practice squad, and he ultimately saw time in two games for Las Vegas, collecting four tackles while playing in only 4-percent of his team's defensive snaps.
He ended up re-signing with the Raiders back in February, but the team released him only a few months later. Before re-upping with Vegas, Irving also worked out for the Colts and Lions, so there weren't a lack of suitors at the beginning of the offseason.
While more interest may develop, Irving is nearly four years removed from his last season of consequence. The 6-foot-7 pass rusher did log seven sacks in eight games with the Cowboys in 2017; that has likely continued to generate interest. Since then, he's only seen time in four NFL games, and it remains to be seen whether he'll get another shot in the NFL.