David Irving booked multiple visits to other teams early this offseason, but the veteran defensive lineman will make his way back to Las Vegas.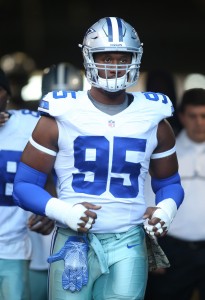 The Raiders and Irving agreed on a deal that will keep this partnership going for a second year. The team announced the move. After the NFL reinstated him midway through last season, Irving signed with the Raiders. He will stick around and hope to see more playing time.
Known mostly for his work in Dallas and issues with the NFL's drug policies, Irving made visits to Detroit and Indianapolis this year. But he opted for a second season with Raiders D-line coach Rod Marinelli, who was previously his defensive coordinator in Dallas. Irving will work in a new system, however, with Gus Bradley now overseeing Las Vegas' defense.
While Irving landed with the Raiders in October of last year, he played in just two games with the team and saw action on just 40 total defensive snaps in his initial Vegas season. A former Chiefs UDFA, Irving has shown flashes previously. He registered seven sacks in eight games with the 2017 Cowboys, moving to primarily an inside-rushing role. However, issues with the league's substance-abuse policy led to Irving missing the 2019 season. Irving has incurred four suspensions since entering the league in 2015.
The 27-year-old defender has not had a full offseason with a team since 2018. A suspension and an off-field issue interrupted Irving's 2018. Back in the NFL's good graces, Irving will attempt to rebound this year.
Photo courtesy of USA Today Sports Images.
Follow @PFRumors