49ers linebacker Reuben Foster was arrested at the team hotel in Tampa Bay at 9:10pm last night on one count of first-degree misdemeanor domestic-violence battery, as Eric Branch of the San Francisco Chronicle (among others) reports. The 49ers announced that they will waive the 2017 first-rounder.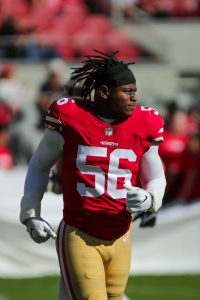 Foster was held without bail overnight, but has since been released on $2K bail, as Greg Auman of The Athletic tweets. The judge also ordered that Foster have no contact with the alleged victim, who has been identified as Elissa Ennis. As those who have followed Foster's brief but troubled NFL career will recall, Ennis is the same woman who accused Foster of striking her last February, which led to Foster's arrest. The domestic violence charges stemming from that arrest were then dropped after Ennis recanted her allegations and admitted that the injuries she sustained were actually suffered during a fight with another woman or two women.
In a statement, Tampa Police said Foster and Ennis — whom the statement identified as a "female victim" — have been involved "in an on-again-off-again relationship over the past three years." The statement said the two were engaged in a verbal altercation and that "Foster slapped [Ennis'] phone out of her hand, pushed her in the chest area, and slapped her with an open hand on the left side of her face. Officers observed a one-inch scratch on the victim's left collarbone."
Foster's February arrest — which also included a weapons charge that led to 232 hours of community service and two years of probation — came just a few weeks after he was arrested for possession of marijuana. Though the marijuana charge and the domestic violence charges were dropped, Foster was still suspended for the first two games of the 2018 regular season for violating the league's conduct and substance abuse policies. Of course, his draft stock fell following injuries and several incidents at the 2017 scouting combine, but the 49ers made him the 31st-overall pick of the 2017 draft anyway. It initially appeared that they would be rewarded for their gamble, as Foster performed quite well in his 10-game rookie campaign, which was shortened due to an injury he sustained in the 2017 opener.
This year, in addition to his two-game suspension, Foster had also missed a pair of games due to a hamstring injury and was questionable for the team's contest against Tampa Bay this afternoon. Given his obvious talent, and given the fact that the current allegations were made by the same woman who admitted she fabricated previous allegations, it will be interesting to see if any teams put in a waiver claim. He will officially hit waivers at 4pm ET tomorrow.
Photo courtesy of USA Today Sports Images.
Follow @PFRumors