Tyler Boyd is having a breakout season, and he could surely expect a lucrative payday once his rookie deal expires after next season. However, it sounds like the Bengals wideout isn't all that focused on hitting free agency, as Boyd told Jay Morrison of The Athletic that he's open to signing an extension with Cincinnati.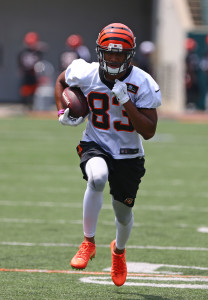 "I'm very open for an extension," the 24-year-old said. "I definitely think about that at times because all the hard work and what I've done has showed why I should get paid. But at the end of the day, I'm here to play football and I want them to know that. It ain't all about the money. I love to play the game. Yes, I want to get the money because I'm working my tail off.
"I'm comfortable here. I like it here. I like the guys that are here. I like the coaches. And I know we have the team to be great. We just have to keep everybody healthy and keep everybody rolling and just stay together. A lot of times there's a lot of ups and downs, but if we can keep the train going straight, keep everything going straight, no stops or nothing, we can be unbeatable. We can be like the Chiefs in this league."
Boyd is proving why the Bengals used a second-round pick on him (55th overall) during the 2016 draft. The third-year player has already established career-highs in receptions (69), receiving yards (938), and touchdowns (six) this season, and he could be the first Bengals player not named A.J. Green to lead the team in receiving since 2010.
The last time the Bengals had such a reliable second receiver was 2015, when Marvin Jones hauled in 812 receiving yards. While Jones signed a five-year deal to be the top receiver in Detroit, Boyd said he isn't concerned about playing second-fiddle to Green.
"The reason that situation works out for me, I feel like me and A.J. are two different players," Boyd said. "I can work the slot a lot. I can accumulate a lot of yards in the slot. Marvin wasn't that guy. Marvin ain't that type of player to accumulate a lot of big yards in the slot. He knew in order for him to get a lot of catches and a lot of yards and be that guy he had to be a No. 1 because he plays the same position as A.J. That's why that didn't work out.
"That was his last year of his contract. He could either stay or leave. He had that option. I'm really stuck between."
Boyd is set to make $1.03MM next season. He'll hit unrestricted free agency if he doesn't sign an extension before the 2020 offseason.
Photo courtesy of USA Today Sports Images.
Follow @PFRumors