Antonio Brown is unhappy with Steelers brass and coach Mike Tomlin, but the assumption so far has been that the Steelers would not trade the wide receiver. Apparently, things have changed. In an interview with Gerry Dulac of the Post-Gazette, Steelers president Art Rooney II said it would be "hard to envision" Brown being with the Steelers in training camp this summer.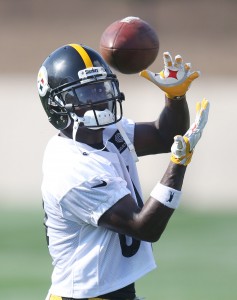 "There's not much we can do right now; we have time to make a decision," Rooney said. "We'll look at all the options. We're not going to release him, that's not on the table. But I will say all other options are on the table."
With that, it appears that one of the game's most dangerous offensive weapons could be on the market. It's likely that every team will have interest in adding Brown, but the cost figures to be sky high. Not only is Brown a superstar player, but trading him would also leave the Steelers saddled with an astronomical cap hit. Even though dissatisfied players are often traded for pennies on the dollar, a Brown trade could call for the forfeiture of two first-round picks, and possibly more.
Even though Rooney is leaving the door open to a possible trade, he's not slamming the door on a potential reconciliation either.
"I'm not going to use those words. All options are on the table. We have two months to go before we can do anything. There's no sense making the decision now," Rooney said. "We'll see how things play out. Maybe he decides to come talk to us some day and we learn more about where he is. We'll see."
Photo courtesy of USA Today Sports Images.
Follow @PFRumors