Colin Kaepernick and Eric Reid reached a settlement with the NFL in their collusion case last week, leading to speculation of big numbers. However, speculation that the settlement amount landed in the range of $60-$80M is incorrect, according to a source with knowledge of the situation who spoke with Mike Florio of PFT.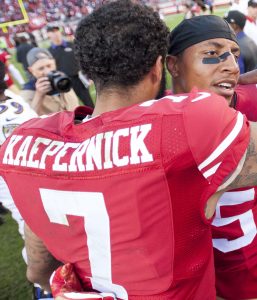 [RELATED: Kaepernick Lawyer Predicts A Team Will Sign QB Soon]
There are other indications that Kaep and Reid did not land a colossal settlement. For example, the payments by the league to the duo did not require the approval of team owners. Instead, the NFL's Management Council Executive Committee approved the settlement, without a vote of the member clubs, which suggests that it was not a monumental figure.
Also, multiple people connected to the league have downplayed the settlement as an amount that will cover anticipated legal expenses, which suggests a number in the seven figures, rather than eight figures. It also appears the settlement did not "buy out" Kaepernick professional football employment – that settlement amount would have been astronomical, but it's likely a smaller sum since Kaepernick will still have the opportunity to earn an NFL paycheck, should he be given the opportunity.
The AAF expressed interest in Kaepernick (and Tim Tebow), but negotiations came to a halt when the QB reportedly asked for a $20MM salary. Reid, meanwhile, is set thanks to his recent three-year, $22MM+ extension with the Panthers.
Photo courtesy of USA Today Sports Images.
Follow @PFRumors