Tonight's Super Bowl may be the last NFL game for Patriots tight end Rob Gronkowski, but do not expect him to confirm his intentions one way or another right away. Per Mike Florio of Pro Football Talk, Gronk does not plan to make an announcement in the immediate aftermath of the Super Bowl, and Florio's source suggests that the 29-year-old will spend some time considering his options.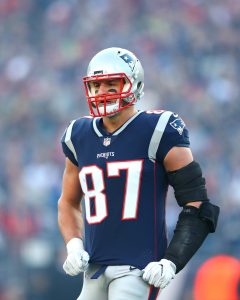 We have recently heard that Gronkowski may be leaning towards retirement, and part of that is due to his rather significant injury history. Indeed, Florio writes that there are two primary factors that will influence Gronk's decision: whether Gronkowski emerges from Super Bowl LIII healthy, and whether Tom Brady makes good on his vow to return for 2019.
The latter seems to be a given in light of everything we have heard about Brady's intentions going forward, but Gronk's health is a bigger question. Ian Rapoport of NFL.com writes that Gronkowski's relative lack of production this season can be at least partially attributed to the Achilles tendonitis and the bulging disc in his back that he battled in 2018, but that he is feeling 100 percent today.
Gronkowski is due a $9MM base salary next season, the last year of his current deal, and it's not as though the post-football career he anticipates won't be there for him in 2020 if he chooses to play in 2019. Contrary to previous reports, Mike Reiss of ESPN.com says that, while Gronkowski is not sure what he wants to do when he's done playing football, he believes it will somehow be tied to the world of fitness.
Photo courtesy of USA Today Sports Images.
Follow @PFRumors