When the Browns and Giants agreed to swap guard Kevin Zeitler and defensive end Olivier Vernon earlier this week, the two clubs also decided to trade draft picks: Cleveland was set to give up a fifth-round pick (No. 155) to New York, while Big Blue send a fourth-round pick (No. 132) to the Browns. Now, following the deal that will send Odell Beckham Jr. to Cleveland, the two teams have agreed to revise the Zeitler/Brown trade.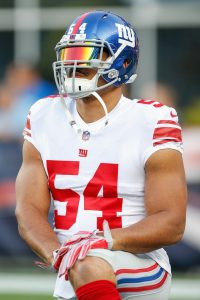 The pick swap will no longer occur, according to Art Stapleton of NorthJersey.com (Twitter link). Instead, Zeitler will simply be traded straight up for Vernon, while OBJ will go to the Browns in a separate move. However, you can look at both swaps together as such: Beckham and Vernon for Zeitler, Peppers, No. 17 overall and No. 95 overall.
It's unclear as to why the Giants and Browns have reached this agreement. The return for Beckham has been widely panned, so it's possible the Giants asked for the Vernon/Zeitler pick swap to be eliminated as something of a face-saving move (although undoing a 23-spot drop in the draft probably isn't worth all that much).
Follow @PFRumors