On Saturday, Patriots owner Robert Kraft released his first statement since being charged with two misdemeanor counts of soliciting, ESPN's Adam Schefter tweets.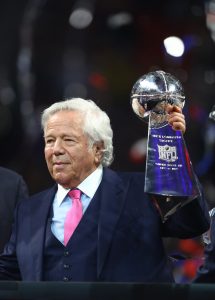 "I am truly sorry. I know I have hurt and disappointed my family, my close friends, my co-workers, our fans and many others who rightfully hold me to a higher standard. Throughout my life, I have always tried to do the right thing. The last thing I would ever want to do is disrespect another human being. I have extraordinary respect for women; my morals and my soul were shaped by the most wonderful woman, the love of my life, who I was blessed to have as my partner for 50 years."
Documents released by the Palm Beach Attorney's Office indicate Kraft visited the Orchids of Asia Day Spa twice in a 24-hour span, and on Jan. 20 was videotaped receiving "oral and manual sex" from a woman at the Jupiter, Fla., Spa. According to officials, Kraft gave the woman a $100 bill and another bill before leaving. He flew to Kansas City shortly after this alleged act, being in attendance for the Patriots-Chiefs game later that day.
Earlier this week, the Patriots owner rejected a plea deal that would have had Kraft admit that he would've been found guilty had the case gone to court. Kraft and his lawyers have denied any wrongdoing at every step so far, and his lawyer William Buck has stated that he believes the video evidence violates the fourth amendment, according to the New York Post's Emily Smith.
"We've looked at…the law around the warrant for the video surveillance inside the spa, and we think it is a violation of the fourth amendment. We also believe the traffic stop [made by police as the men left the spa] was illegal and a violation of the constitution."
Also this week, Martin County Sheriff William Snyder believes the video evidence will eventually be made public, NBC Sports' Darren Hartwell writes.
"Once a case is over, it's not an ongoing investigation," Snyder said. "There has to be a specific reason not to release a public record. And the fact that there is sexual activity is not an exemption."
Kraft's court date is set for March 28. Before he appears, however, he is expected to be in attendance at the NFL's owner meetings, which begin Sunday.
Photo courtesy of USA Today Sports Images.
Follow @PFRumors