Hallelujah, the great storm is over. The Steelers have agreed to trade Antonio Brown to the Raiders in exchange for a third- and fifth-round pick in this year's draft, per Ian Rapoport of NFL.com (Twitter links). The news has since been confirmed by other major outlets, but Brown himself was (fittingly) the first to break the story, having posted a Photoshopped picture of himself in a Raiders uniform and a picture of himself and Oakland QB Derek Carr at the Pro Bowl (via Scott Bair of NBC Sports Bay Area on Twitter).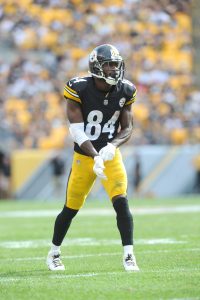 RapSheet also tweets that Brown will get a new deal from the Raiders, which does not add any more time onto the three years he had remaining on his contract with the Steelers, but does make him the highest-paid receiver in the game from an AAV standpoint. Brown's new pact with Oakland will pay him $50.125MM over the next three seasons, plus $4MM in incentives, for an AAV of $19.8MM. Plus, Brown gets $30.125MM in guarantees, and his contract with Pittsburgh had no guaranteed money left.
New Raiders GM Mike Mayock appears to have come out quite well in his first trade as the (figure)head of the Oakland front office, and the Steelers' return has been universally panned. But as Gerry Dulac of the Pittsburgh Post-Gazette observes (via Twitter), and as we have expected for some time, Brown's erratic behavior and demand for a new contract torpedoed the Steelers' bargaining position. Also, the fact that Pittsburgh was willing to accept such a low return suggests that the club was never going to bring Brown back and that it was more concerned about ridding itself of Brown's antics, as Dulac tweets.
The Raiders played the long game, per Jerry McDonald of the Bay Area News Group (via Twitter). The Raiders have long coveted Brown but believed they were out of the running for him as of Wednesday. However, they did not get desperate and try to up their offer, and in the end they got their man for their price. And the fact that they did not have to add any years onto Brown's deal to convince him to sign off on the trade makes it even more of a coup.
So the Raiders get a dynamic wideout to assist in their rebuild and their transition to Las Vegas in 2020, but what about the Steelers? The trade adds some legitimacy to the speculation that the team is trying to appease quarterback Ben Roethlisberger at all costs — perhaps to stop him from retiring — and that the relationship between Brown and Big Ben had become truly untenable. Of course, the club has an excellent track record of finding top-tier receiver talent all over the draft, and they now add a second third-round choice to their 2019 draft capital along with a fifth-rounder to replace the one they sent to Oakland last season to acquire Ryan Switzer.
However, the trade is devastating from a salary cap perspective. As ESPN's Field Yates tweets, Brown will now count for more against the Steelers' cap in 2019 ($21.12MM) than any other WR will count for his own team. It is a tough pill to swallow, but as with every transaction of this magnitude, the passage of time may ultimately change everyone's perspective.
Photo courtesy of USA Today Sports Images.
Follow @PFRumors