The Johnson County District Attorney's offense has declined to file charges in the investigation involving Chiefs wide receiver Tyreek Hill, DA Stephen Howe announced on Wednesday. However, Howe is far from convinced that there was no wrongdoing.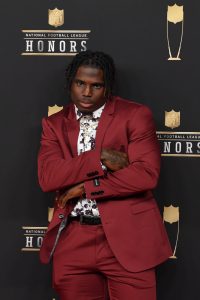 "We believe the a crime has occurred," Howe said, before adding, "The evidence does not conclusively establish who commit the crime."
On Thursday, Hill issued a statement through his attorneys, though he did not speak specifically to the case:
"I love and support my family above anything. My son's health and happiness is my number one priority. I want to thank the Kansas City Chiefs, my attorneys, my agent and my union for supporting me through this. My focus remains on working hard to be the best person for my family and our community I can be and the best player to help our team win."
Authorities say Hill's three-year old son suffered injuries, including a broken arm, at Hill's home. At one time, authorities were also looking into Hill's involvement in another incident where officers were called to Hill's home to investigate a different instance of "child abuse or neglect." Hill's name was listed on that police report, though the "report was closed three days later when prosecution was declined." 
All of the accusations are troubling, especially in light of Hill's pre-NFL history with domestic violence. And, given the way the NFL has operated in recent years, Hill is certainly not out of the woods when it comes to league discipline.
So far, Howe says his office has not spoken to the league or the Chiefs about Hill's case.
Photo courtesy of USA Today Sports Images.
Follow @PFRumors