With the draft and the first waves of NFL free agency in the rear view mirror, the days leading up to the 4th of July aren't necessarily a hotbed of activity. However, the league office has been known to use these slow days as an ideal time to release word of suspensions for noteworthy players.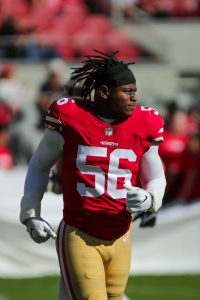 That's what the suits at 345 Park Ave. did on this date in 2018 when they banned 49ers linebacker Reuben Foster for the first two games of the regular season. The move, to put it mildly, was controversial – just a few weeks prior, Foster was facing jail time for accusations of domestic abuse against his former girlfriend. Had he been convicted, the club said that he would have been cut. But, after Foster avoided felony convictions, he kept his spot on the roster and the league determined that he would only miss contests against the Vikings and Lions before returning to the active roster on Sept. 17.
This was, admittedly, a tricky situation for the NFL. Initially, his on-and-off girlfriend testified that Foster had beaten her and thrown her down stairs. But, later, she claimed that she fabricated allegations against Foster and actually suffered her visible injuries during a fight with another woman.
Critics of the two-game ban were quick to compare Foster's situation to the league's handling of Ezekiel Elliott in 2017. Elliott was accused of multiple instances of domestic violence by a former partner, but was never criminally charged in connection to those events. After conducting their own investigation, the league moved to ban Elliott for six games.
Elliott fought his suspension, but Foster did not.
"I accept the League's decision and am sorry that my mistakes have hurt my team," Foster said in a statement released by the Niners. "I have a responsibility to the 49ers, our fans and our community, and I am committed to learning from this situation and making better choices in the future. The support I have received over the last five months has been humbling, and I do not take it for granted."
When Foster was accused of abusing Ennis yet again in November of 2018, the 49ers followed through on their promise to release him. The Redskins pounced, claiming him off waivers days later and expressing confidence that he would not receive another suspension. They were right – the league docked Foster two game checks for the 2019 season but declined to sideline him for any games.
On the same day as Foster's ban, the league also rejected Julian Edelman's appeal and handed Packers running back Aaron Jones a two-game suspension for a substance abuse policy violation. With the statuses of Elliott (again) and Tyreek Hill up in the air, we could see a similar torrent of news today.
Photo courtesy of USA Today Sports Images.
Follow @PFRumors