Two of the best players in Lions history made major decisions in July 1999. The centerpieces on some explosive Lions offenses in the '90s, Barry Sanders and Herman Moore headed in opposite directions 20 years ago this month.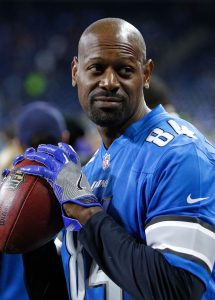 A first-team All-Pro from 1994-96, Moore reached an extension agreement with the Lions on July 20, 1999, re-signing to stay in Detroit on a seven-year deal worth $33MM. That contract, which occurred when the league's salary cap stood at $57.3MM, came with an $8.5MM signing bonus. Moore and Sanders were teammates for nine seasons in the Motor City, but that partnership came to an end eight days later when the Hall of Fame running back retired.
Moore was 29 at the time of this extension and had been one of the NFL's best wide receivers for several years. The No. 10 overall pick in 1990, Moore used his 6-foot-4 frame well and authored a dominant stretch of football in the mid-'90s. In addition to setting the NFL reception record (123) in 1995 and reeling off four straight Pro Bowl seasons from 1994-97, Moore reached the 600-reception plateau faster than any receiver in NFL history. Moore accomplished that feat in his 118th game, in 1998, a season in which he finished with 983 receiving yards.
The extension, however, did not work out for the Lions. After Moore had played in at least 15 games each regular season from 1993-98, he battled injuries after signing this deal. A knee injury limited Moore to eight games in 1999, and he encountered shoulder trouble in 2000. After playing in 15 games for the 2000 Lions, who saw only Johnnie Morton eclipse 500 receiving yards, Moore suffered a torn abdominal muscle three games into the '01 season — his last with the Lions. After a one-game Giants cameo, Moore retired in 2002.
The Lions spent the next several years struggling to find a Moore successor. Detroit used top-10 picks in 2003, '04 and '05 on wideouts — Charles Rogers, Roy Williams and Mike Williams. None made it into the 2010s with the franchise, with Rogers and Mike Williams flaming out quickly as Lions. Detroit finally hit on a Round 1 wideout in 2007, Calvin Johnson, who ended up breaking Moore's franchise receiving records.
While he only totaled 707 receiving yards in the three seasons after signing this extension, Moore remains in second in Lions history in receptions (670), yards (9,174) and receiving touchdowns (62).
Photo courtesy of USA Today Sports Images.
Follow @PFRumors