World Wrestling Entertainment owner Vince McMahon is the big name associated with the upcoming XFL, but the league's commissioner has the difficult job of building a successful infrastructure. Fortunately, Oliver Luck, the father of Colts quarterback Andrew Luck, is more than qualified for the position; following an NFL career, Luck earned his law degree before running MLS teams and collegiate programs.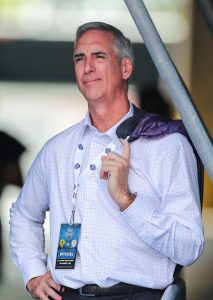 Luck is now tasked with running an alternative option to the NFL, something that several of the league's predecessors have failed to do. Several months ago, it looked like the XFL would be going head-to-head with the Alliance of American Football, but now they're the only reputable spring league. The eight teams are already ramping up their efforts for a 2020 debut, and each organization has a head coach in place.
Now, the league is turning their attention to attracting players. In October, about 300 participants from the XFL's Summer Showcase will be signed and entered into a draft pool, at which time the eight teams will fill the "bottom half" of their rosters. The league will look to fill the rest of their rosters with players who are cut loose by NFL squads following the preseason (more than 850 players will be released at that time). The XFL will have another chance to add players in January, when practice squads end and players aren't retained via futures contracts.
Luck talked with Greg Auman of The Athletic about the XFL's plan for recruiting players and what he's learned from the AAF. The entire article is worth a read, but we've compiled some of the notable soundbites below.
On what he learned from the defunct Alliance of American Football, which is still dealing with fallout despite shutting down in April:
"I was speaking with Vince, and one of the questions he asked was 'What are you worried about?' I said 'I think schedule-wise, etc., we're in pretty good shape, but I do worry though about players' motivations after the other league collapsed.' I'm really looking forward to all these showcases, today included, to talk to these guys and it's been very refreshing to see they just want to play more football. They know where our eight teams are, they know who our head coaches are, they trust we're going to have a game that's not too outlandish or crazy. To see the motivation and excitement these guys have has been good for us. It took away any doubt I had that players might say 'Oh, gosh, another spring league. I don't want to do that. They never make it.' That sort of thing. That was important."
On both the successes and failures of the AAF:
"We watched them closely. Personally, there was no dancing on the grave, no schadenfreude. I was hoping they'd make it through their championship game. … It's helped us a little bit, reaffirmed our model. The AAF also made some mistakes. (The Apollos), in the sports business, that's like a pilot forgetting to turn the engine on."
On NFL-ineligible collegiate players who may spurn the NCAA for professional football (the NFL requires players to be at least three years out of high school):
"We won't have many, but we'll have a couple. They'll be some guys with college eligibility still who say 'I'd rather go earn sixty grand' … anybody is eligible. Having said that, as I've said to our head coaches, I want to make sure the younger guy is physically, mentally, emotionally mature enough to play. If you've got a guy who played a year of ball at Florida State, got a lot of snaps and stuff."
On whether the NFL is focused on attracting younger players or veterans:
"We have to be able to make sure that some of the older guys can make it through, to be blunt. We have to make sure some of younger guys know what it means to be a professional. I think there will be a combination of guys. We want to be a league of opportunity."
On attracting (relatively) big-name quarterbacks to join the XFL (Luck specifically focused on the Seahawks backup gig between Geno Smith and Paxton Lynch, noting that the "loser" could realistically make just as much money in the alternative league):
"We're watching the backup quarterback camp battles. One of these guys is going to get cut. There's a bunch of those going on. We might not get all of those guys, the quote-unquote loser of those, but a Geno or Paxton is not going to end up on a practice squad. There are a bunch of 3-4-5-year guys that are in that boat. They've been on rosters, practice squad, been yo-yo'd two years. They need to play, and that's my argument to them, that it's very doable here."
Follow @PFRumors