Another kicker shakeup may occur this preseason. With their incumbent kicker struggling, the Falcons will sign Blair Walsh, Vaughn McClure of ESPN.com reports (on Twitter). While Giorgio Tavecchio remains on the team, he is now set for a full-fledged competition.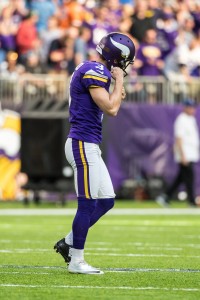 The Falcons confirmed the move, which comes after Dan Quinn suggested the team would bring in competition for Tavecchio. The third-year kicker has struggled during the preseason, missing 4 of 8 attempts — including a 39-yarder — thus far this month.
A Georgia alum, Walsh worked out for the Jets and Bears this year. Both teams opted against adding the former Vikings kicker. Should Walsh beat out Tavecchio, he would face his former team in Week 1. Walsh did not play in 2018.
Walsh has not kicked since a disappointing 2017 season. The Seahawks moved on from him after he went 21-for-29 that season. Minnesota initially selected Walsh in the 2012 sixth round and used him as its kicker for five seasons. The 29-year-old specialist earned All-Pro acclaim as a rookie, going 10-for-10 from beyond 50 yards, but his miss inside of 30 yards cost the Vikings a wild-card win against the Seahawks in 2015. He has yet to fully rebound from that errant try.
The Falcons also signed defensive tackle Stefan Charles and tight end Thomas Duarte. To make room for this new trio, the team waived wide receivers Shawn Bane and Kahlil Lewis, along with offensive lineman Tommy Doles.
Follow @PFRumors