And just like that, Antonio Brown's tenure with the Raiders has come to an end. The organization announced that they've released the star receiver. This comes hours after Brown requested his release from the team via Instagram.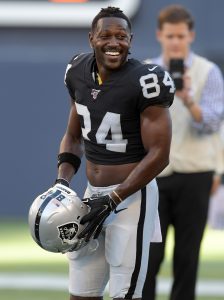 Of course, the saga between these two sides is far from over. Brown effectively hasn't seen a dime from the organization (Jason Fitzgerald of OverTheCap.com estimates that he earned a week's salary), as the majority of his 2019 money was via a guaranteed $14.625MM base salary that was voided last night. As Mark Maske pointed out earlier today (on Twitter), Brown's camp will likely fight both the team's attempt to revoke the entire $29.1MM in guaranteed money and his $215K in fines.
As we noted earlier, the Raiders told Brown that he would "no longer will be entitled to termination pay" should he be released; former GM (and current ESPN employee) Mike Tannenbaum notes that the organization can't "unilaterally take away a player's right to termination pay" (which is a CBA perk for veteran players). On the flip side, the Raiders could pursue a "conduct detrimental claim" to recoup the money. That's when things get tricky; the organization would then be dependent on the ruling of an arbitrator. If Brown's behavior isn't deemed to be detrimental, then the Raiders would have sacrificed more than $30MM and a pair of draft picks for zero production.
Brown has been a constant source of drama throughout his brief tenure in Oakland. Following frostbitten feet and a helmet dispute, it all seemed to culminate this week when the receiver berated general manager Mike Mayock after being fined for missing practices. The organization was then reportedly set to suspended the wideout, although the two sides seemingly made up, Brown was simply fined, and reports indicated that he'd play in Week 1. Then, last night, Brown was officially slapped with those fines, which then voided his guarantees. As a result, the 31-year-old requested his release this morning, and according to NFL.com's Ian Rapoport, Brown is attributing his discontent to the team's apparent lack of respect.
"Told me do not come in Thursday. Bad my name," Brown told Rapoport (Twitter link). "Then come work, give two papers after the press conference. No guaranteed no way."
For the Raiders, the drama has seemingly ended for the time being. As Fitzgerald tweets, the move should open up around $28MM in cap space this season (pending any grievances). Meanwhile, the team will now have clarity on their receiver depth chart heading into Week 1. As of right now, Tyrell Williams and JJ Nelson are listed as Derek Carr's top targets.
Considering his status as a veteran, Brown isn't subject to waivers, tweets NFL.com's Tom Pelissero. ESPN's Field Yates tweets that the receiver is free to sign with a new team at 4:01 PM EST today, although he won't be eligible to play for a new team tomorrow. Agent Drew Rosenhaus indicated that he'll immediately start looking for a new home for his client.
"Now that Antonio is a free agent, we are focused on the future and I will immediately work on signing him to a new team," Rosenhaus said (via ESPN's Adam Schefter on Twitter). "Antonio is looking forward to a new beginning."
The agent also provided some insight into Brown's failed stint with the Raiders.
"It's been well-documented that it's been a rocky road from the beginning," Rosenhaus told Rapoport. "Unfortunately, not all relationships between players & teams work out. … Everybody had the best intentions going in but it didn't pan out."
Follow @PFRumors