The Broncos have traded wide receiver Emmanuel Sanders to the 49ers, according to Mike Klis of 9News (on Twitter). The deal will send Sanders and a 2020 fifth-round pick to the Niners with 2020 third- and fourth-round picks going to Denver, Adam Schefter of ESPN.com tweets.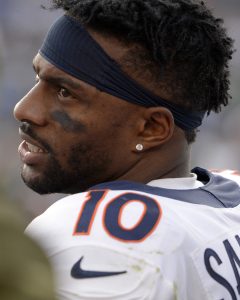 The trade talk around Sanders has been percolating for some time. The Niners, meanwhile, have been on the hunt for a game-changing wide receiver. Mohamed Sanu, one of the top available WRs leading up to the trade deadline, was snagged by the Patriots in a Tuesday morning trade. Instead, the 49ers pivoted to Sanders, who offers a lengthy playmaking resume.
Through seven games, Sanders has 30 catches for 367 yards and two touchdowns. While those aren't bad numbers, he'll aim to get back towards his old form. Last year, Sanders managed 71 catches for 868 yards and four touchdowns in just 12 games. In 2014, his first season with the Broncos, he set career highs of 101 grabs for 1,404 yards and nine TDs. Sanders' best ball might be behind him, but he's still plenty dangerous, the potential is there for him to be a difference-maker as one of Jimmy Garoppolo's top targets.
In this deal, the Broncos managed to acquire draft capital while giving up a 32-year-old player in the final year of his deal. It was a solid move for GM John Elway, who likely isn't done working the phones. There's still a week to go before the trade deadline and the Broncos are clearly willing to sell after their loss to the Patrick Mahomes-less Chiefs. At this point, all eyes are on cornerback Chris Harris Jr. Elway has implied that Harris, Von Miller, and Derek Wolfe are staying put, but he said roughly the same thing about all of the team's big "names" just days ago, and that group certainly included Sanders.
Outside of tight end George Kittle, the Niners were lacking proven receiving talents. In fact, none of the 49ers wide receivers have eclipsed the 200-yard mark or scored more than one touchdown this season. Sanders knows a thing or two about finding the end zone, however – he's scored 39 career touchdowns for the Steelers and Broncos across his NFL career. If Sanders can produce – and mentor Dante Pettis and Deebo Samuel – he'll be well worth the price. The Niners will be in even better shape if Trent Taylor returns to action later this year.
Sanu and Sanders are spoken for, but A.J. Green (Bengals), Taylor Gabriel (Bears), and DeVante Parker (Dolphins) are still available for trade between now and Tuesday buzzer.
Photo courtesy of USA Today Sports Images.
Follow @PFRumors