The NFL has suspended Myles Garrett indefinitely for his actions on Thursday night. Garrett, at minimum, will be banned for the remainder of the 2019 season. The rest will be determined at a later time and will likely involve a lengthy process of hearings, meetings, and appeals.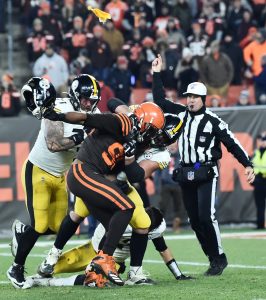 In addition to Garrett's suspension, the league has also suspended Steelers offensive lineman Maurkice Pouncey for three games and Browns defensive lineman Larry Ogunjobi for one game. Garrett will not be paid during his ban and Ogunjobi and Pouncey have been fined.
In the waning moments of Thursday night's win over the Steelers, Garrett ripped the helmet off of Mason Rudolph and smashed the Steelers quarterback in the head with it. The brutal incident could even have consequences beyond football. Rudolph's agent says the QB's camp will review the matter thoroughly and intimated that the matter could be taken to the legal system.
Garrett's actions in the brawl were somewhat reminiscent of former Titans defensive tackle Albert Haynesworth's actions years ago, when he stomped on the forehead of Cowboys center Andre Gurode with his cleats. Haynesworth got a five-game ban for that, but the league has stepped up its punishments for brawls and between-the-whistle violence recently. Vontaze Burfict, for example, was banned for the entire 2019 season after his latest safety violation.
Garrett, 23, was the No. 1 overall pick in the 2017 draft. On the field, he's been mostly exceptional – he notched 13.5 sacks in 2018 en route to his first ever Pro Bowl nod and, through ten games this year, he has ten sacks. He will not record another sack in the 2019 season and it remains to be seen whether he'll be permitted to play in 2020.
Photo courtesy of USA Today Sports Images.
Follow @PFRumors