Sources close to the Cowboys say head coach Jason Garrett must win the Super Bowl this season to retain his job, according to Mike Freeman of Bleacher Report. Freeman notes that Garrett has survived the hot seat many times before, but claims in this instance, "the rumors feel different."
Just this morning, Dallas owner Jerry Jones intimated the same sentiment to Good Morning Football, but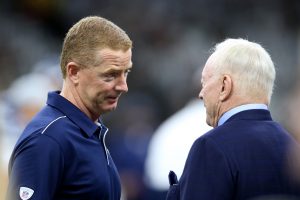 given Jones' maverick history, reading into any one quote can be misleading. However, Freeman's report confirms Garrett faces an ultimatum to reach a level he has never reached in his tenure as head coach.
Garrett holds a 83-64 overall record in his ten years as head coach in Dallas, but his 2-3 playoff record, which includes zero Super Bowl appearances remains the largest indictment on his record. His more recent refusal to integrate statistical analysis into his decision making has garnered large outside criticism, especially after he decided to kick a field goal during the Cowboys 13-9 loss to the Patriots on Sunday.
Freeman reports that executives around the league believe Jones has begun to focus on two candidates to eventually replace Garrett: former Utah, Florida, and Ohio State head coach Urban Meyer and Patriots offensive coordinator Josh McDaniels. Both candidates come with certain levels of risk. Meyer has never coached at the professional level and left Ohio State amidst off-field controversy. McDaniels' was last the Broncos head coach, but was fired after a generally unsuccessful tenure. Of course, Garrett does appear to have a path to retaining his position: reaching the league's pinnacle.
Follow @PFRumors