Myles Garrett is doubling down on his claim that Steelers quarterback Mason Rudolph used a racial slur in the buildup to the infamous brawl that occurred last Thursday night, as the Browns defensive end indicated on Twitter.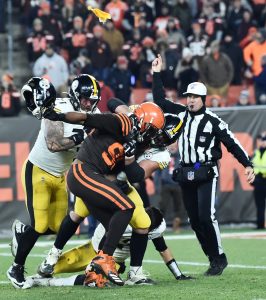 "I was assured that the hearing was space that afforded the opportunity to speak openly and honestly about the incident that led to my suspension. This was not meant for public dissemination, nor was it a convenient attempt to justify my actions or restore my image in the eyes of those I disappointed.
"I know what I heard. Whether my opponent's comment was born out of frustration or ignorance, I cannot say. But his actions do not excuse my lack of restraint in the moment, and I truly regret the impact this has had on the league, the Browns and our devoted fans."
As the NFL indicated in a statement earlier today, the league found no evidence that Rudolph used such a slur before or during the fight. Microphones are all over the field during an NFL game, so it seems likely that any slur would have picked up. Nevertheless, Garrett is standing by his claim.
Garrett's appeal of his indefinite ban was denied today, meaning he's suspended for at least the rest of the 2019 regular season and playoffs. Meanwhile, Steelers center Maurkice Pouncey saw his suspension reduced from three games to two.
Photo courtesy of USA Today Sports Images.
Follow @PFRumors