Antonio Brown is without an NFL team and without an agent. On Thursday, agent Drew Rosenhaus "conditionally" dropped the wide receiver as a client (Twitter link via Adam Schefter of ESPN.com).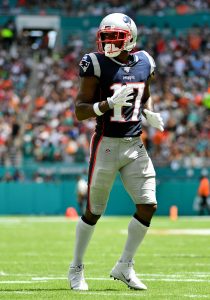 Rosenhaus informed the NFLPA of his decision in a letter, explaining that he will not represent Brown until he seeks counsel. The agent says he would like to work with Brown, but he will not do so unless he gets help.
Brown, clearly, has bigger fish to fry before he resumes his focus on the NFL. Since being placed on the commissioner's exempt list, Brown has made a number of bizarre posts on social media, ranging from unprofessional to downright scary. Most recently, he broadcasted a profanity-laced argument with police officers and the mother of one of his children.
Rosenhaus has fought Brown's battles in radio interviews over the past few months, expressing his frustration with the league's slow-moving investigation that has kept Brown in a holding pattern. At this point, the NFL has no real motivation to hurry things up and it's unlikely that Roger Goodell wants Brown back on the field as he continues to find off-the-field trouble.
For many years, Brown was the focal point of the Steelers' passing attack and one of the league's very best wide receivers. Things deteriorated over time, however, leading him to the Raiders. The late summer drama over Brown's helmet and his willingness to play now seems like a distant memory. Since then, Brown has faced multiple accusations of sexual assault, been released by the Patriots, and placed in indefinite limbo by a sport that doesn't know exactly what to do with him.
In spite of all of this, teams expressed interest in signing Brown, pending the outcome of the NFL's investigation. The Saints worked Brown out just a few weeks ago, then passed on him. Brown, who came to the audition flanked by an entire camera crew, later accused the Saints of working him out as a publicity stunt.
Brown has now lost one of his biggest allies and it's clear that he'll have to make wholesale changes to his life before he can get anywhere near the field again.
Photo courtesy of USA Today Sports Images.
Follow @PFRumors