Giants GM Dave Gettleman has caught a lot of flak from both the media and fans, but he is surviving for at least one more year. The team fired head coach Pat Shurmur after the season, but announced they'd be retaining Gettleman for 2020. With his job safe for the time being Gettleman made a couple of appearances on ESPN Radio and WFAN in New York and made some interesting comments, via Ryan Dunleavy of the New York Post.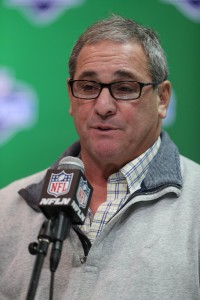 Perhaps most notably, Gettleman admitted that he didn't want to fire Shurmur, the first coach he hired, and that the order came directly from ownership. "Came from above," he said of the decision. There were reports that co-owner Steve Tisch was pushing for Shurmur's firing, and his view ultimately won out with controlling owner John Mara. Many questioned the decision to bring back Eli Manning for 2019 and pay his hefty salary if they were going to bench him after only two games, but Gettleman insisted ownership played no role in making that call.
Gettleman was previously the GM in Carolina, where he worked with recently hired Redskins coach Ron Rivera. Gettleman revealed that New York would've been interested in a reunion, but they didn't have the chance because they waited until after the season to fire Shurmur, whereas Washington had a head start. "Before we could turn around," Gettleman said, "the [Redskins] deal was done."
The front office head also revealed that it was Shurmur who originally identified and brought quarterback Daniel Jones to his attention. Gettleman then fell in love with the signal-caller from Duke, and ended up taking him sixth overall. Gettleman said on both radio programs that he would be willing to give up some of his power on personnel decisions to a new head coach depending on the candidate. With ownership calling the shots, he might not have a choice.
New York has been busy, already scheduling a slate of interviews, which you can keep track of via our head coaching search tracker. Below are a list of names we've heard about as of right now:
Photo courtesy of USA Today Sports Images.
Follow @PFRumors