As you've certainly heard by now, free agent receiver Antonio Brown turned himself into authorities last night on charges of battery and burglary. He has since been released on bond, and now we have more details.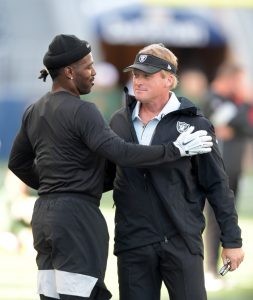 In addition to the bail money he had to put up, Brown will "be monitored by GPS and be required to release his passport and guns, go through drug and alcohol testing, and get a mental health evaluation," per Cameron Wolfe of ESPN.com. Wolfe was in the courtroom, and he writes that there was a contentious battle between prosecutors and defense attorneys over the bail situation. Prosecutors alleged he was a flight risk due to his recent erratic behavior, and wanted him held without bail.
"I don't think there's any mental health issues with him. Antonio Brown's life right now is a reality show," Brown's attorney Eric Schwartzreich said. "He is misinterpreted and misunderstood. He's not guilty of these charges. He did not commit a felony battery. In this case, when all the facts come out, you will see he will be vindicated and he will be found not guilty."
"They overcharged him," Brown's other attorney Lorne Berkeley said. "Once a thorough investigation is done, we believe the charges filed will most likely be very different than they are right now." Brown better hope that's the case, as the current felony burglary with battery charge is punishable by up to life in prison. That's obviously just a maximum sentence that is extremely unlikely, but it underscores the seriousness of the charge.
Photo courtesy of USA Today Sports Images.
Follow @PFRumors