Colin Kaepernick is long removed from his last snap, but he's not giving up hope on returning to the NFL. The former 49ers quarterback tells Jarrett Bell of USA Today that he'll be ready to go if he gets a call.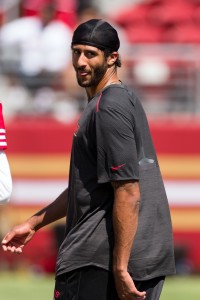 "My desire to play football is still there," Kaepernick said. "I still train five days a week. I'm ready to go, I'm ready for a phone call, tryout, workout at any point in time. I'm still waiting on the owners and their partners to stop running from this situation. So I hope I get a call this offseason. I'll be looking forward to it."
At this time, it doesn't seem likely that Kaepernick will get that opportunity. Late last year, the NFL organized an open workout for the QB, a tryout that came without much in the way of prior notice for anyone, including Kaepernick. Instead of going through with the one-man combine at the Falcons' facility, Kaepernick pivoted at the last moment and staged a workout of his own elsewhere in Georgia. Afterwards, Kaepernick's camp sent footage of the workout to all 32 teams. Still, his agent admitted that the odds of his client signing an NFL deal were slim.
In the midst of all of this, there have been murmurs of Kaepernick joining up with Vince McMahon's reboot of the XFL, which kicked off its 2020 season just after the Super Bowl. There's no movement on that front, either, and it doesn't sound like things will change anytime soon. Recently, XFL commish Oliver Luck reiterated that Kaepernick's salary demands were too high, and also said that the league would not be willing to bend on its policy on standing for the national anthem.
Kaepernick, 33 in November, hasn't seen live action since January 1, 2017. Since then, the Seahawks have been the only team to bring him in for a workout.
From 2011-2016, he went 28-30 in his starts for San Francisco. Following the 2012 season, he took the 49ers to the Super Bowl. In the 2013 season, he was under center as they reached the NFC championship game.
Later this year, Kaepernick will release a memoir via his newly formed publishing company and a partnership with Audible.
Photo courtesy of USA Today Sports Images.
Follow @PFRumors