With the NFL taking the rare step to move its window for teams to apply franchise and transition tags, let's take a look at one of the most pivotal developments in tag history. A fascinating tag-related sequence began 14 years ago today. After Steve Hutchinson reeled off three straight Pro Bowl seasons — two of them producing first-team All-Pro acclaim — the Seahawks placed their transition tag on the standout guard on Feb. 23, 2006.
Hutchinson had just helped Shaun Alexander race to MVP honors during Seattle's 2005 NFC championship season. Not only did this transition tag not work out for the Seahawks, it set in motion a chain of events that led to a change in NFL offseason procedures.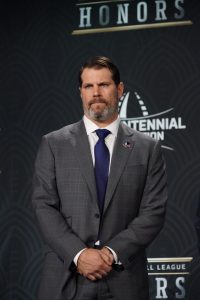 The Seahawks frequently used their tag in the years leading up to this, franchise-tagging Walter Jones from 2002-04. The Hall of Fame tackle played on the tag in each season but signed a seven-year, $52.5MM extension in February 2005; that figure became important in the Hutchinson proceedings. The Seahawks also franchise-tagged Alexander in 2005, and his status as a free agent loomed large a year later as well.
Seattle opted to use the lesser transition tag, which provides no compensation for successful offer sheets, on Hutchinson. The Vikings then signed Hutchinson to a seven-year, $49MM offer sheet in March, making him the highest-paid guard in league history. But a clause in this contract became the story.
Minnesota's offer sheet stipulated all of Hutchinson's $49MM would become guaranteed were he not his team's highest-paid offensive lineman at the time he signed the contract. With Jones in place on his $7.5MM-per-year deal, Hutchinson would have not been Seattle's highest-paid O-lineman. That would have triggered the guarantee. Because of the Vikings' tactic here, the term "poison pill" became a common phrase that offseason. An NFL arbitrator ruled in favor of the Vikings, keeping this language in the contract and sending then-28-year-old lineman to the Twin Cities.
Rather than match the onerous offer sheet, Seattle used that money to give linebacker Julian Peterson a seven-year, $54MM deal. Prior to the Vikings' Hutchinson contract, the Seahawks had already authorized an eight-year, $62MM deal for Alexander. That decision burned the Seahawks quickly, while Hutchinson continued his prime with the Vikings.
As a revenge measure in this unique offseason feud, the Seahawks then pilfered Vikings restricted free agent wide receiver Nate Burleson for the same amount — seven years and $49MM — despite Burleson never making a Pro Bowl. But Seattle's "poison pill" was even weirder. That RFA offer sheet stipulated Burleson's $49MM would become guaranteed if he played five games in the state of Minnesota. The Vikings naturally passed on this offer sheet.
While both teams were admonished at the ensuing league meetings, the Vikings got the better end of these transactions. Hutchinson played six seasons with the Vikings, made four more Pro Bowls while helping Adrian Peterson's rise and was elected to the Hall of Fame earlier this year. Alexander's production fell off considerably in 2006, and he was out of the league by 2009. A Seattle native, Burleson was a Seahawk from 2006-09. The NFL discontinued "poison pill"-type clauses in offer sheets in 2012.
Photo courtesy of USA Today Sports Images.
Follow @PFRumors