The Jaguars have agreed to trade Nick Foles to the Bears, according to ESPN.com's Adam Schefter (on Twitter). In exchange, the Bears will send a compensatory fourth-round pick to the Jags. The former Super Bowl MVP will restructure his hefty contract as part of the trade, Mike Garafolo of NFL Network tweets.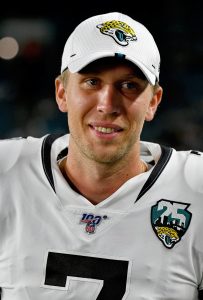 It'll be new surroundings for Foles, but he'll have plenty of familiar faces to help him adjust. Head coach Matt Nagy is among the staffers that have worked with him in the past, which will help with the learning curve.
The Bears have been exploring alternatives to former first-round pick Mitchell Trubisky this offseason, though they're not necessarily out to replace him. Instead, Foles figures to serve as competition for the soon-to-be 26-year-old.
Trubisky showed plenty of promise in 2018 as he led the Bears to an 11-3 mark in 14 starts, a campaign that resulted in his first ever Pro Bowl nod. However, things got really rocky last year – Trubisky had just 17 touchdowns against ten interceptions and the Bears' D couldn't make up for the shortcomings. The Bears went 8-7 in Trubisky's 15 starts and finished .500 on the season, leaving them short of the playoffs.
Chicago initially insisted after the year that they'd roll with Trubisky in 2020, but reports soon emerged that they were going to look for a veteran to push Trubisky. They've been connected to a number of signal-callers including Foles, Andy Dalton, and Teddy Bridgewater, and we heard Monday that they were focused on trading for either Foles or Dalton.
The Bears will take on the last three years of Foles' contract, which pays a base value of $50M before the restructure. The Jaguars will be left with a substantial dead money hit of $18.75MM in 2020 and a mid-round pick. Jacksonville seems prepared to turn things over to Gardner Minshew, the sixth-rounder who went 6-6 last year as a rookie and finished the season with a top-10 interception rate.
Foles has had plenty of success at Soldier Field, as his last win as a starting quarterback was in Chicago in the wild card round of the playoffs two seasons ago in the infamous 'double-doink' game. While the Bears have insisted they aren't giving up on Trubisky, it would be highly unusual to pay a backup quarterback as much money as Foles is getting, and it would be surprising if he doesn't take over at some point.
Chicago now has even less draft capital, as they've already shipped out a bunch of picks in previous deals. They now have the 43rd and 50th overall selections in next month's draft, but no other picks in the first four-rounds, Brad Biggs of the Chicago Tribune notes in a tweet breaking down all of their picks.
Photo courtesy of USA Today Sports Images.
Follow @PFRumors