The Panthers are expected to sign Teddy Bridgewater when the league year officially kicks off on Wednesday, according to ESPN.com's Chris Mortensen (on Twitter). The two sides are still ironing out the details, but it'll be a three-year deal in the range of $60MM, Mort hears.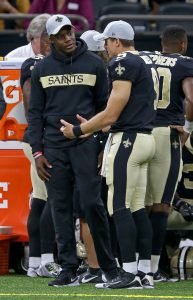 On Tuesday morning, the Panthers announced that they have given Cam Newton permission to seek a trade. Interestingly, that news caught Newton off-guard – he accused the Panthers of "wordplay" to imply that he wanted out. Either way, Newton will be playing elsewhere in 2020 and Bridgewater will be the club's starter moving forward.
Bridgewater, who is beloved by just about everyone in NFL circles, worked tirelessly to come back from what could have been a career-ending knee injury. Since moving on from the Vikings, he's shown that he still has tons of talent to go along with his charisma and leadership.
Last year, he got five opportunities to start in Drew Brees' stead and he went undefeated. Now, heading into his age-28 season, the Panthers are hopeful that he can rekindle his early Minnesota magic.
Before the injury, Bridgewater averaged 3,075 yards, 14 touchdowns, and 10 interceptions in his first two seasons. With the Saints, he sat for most of the 2018 season before leading the team to a 5-0 record in Brees' absence last year. While Bridgewater ranked at or near the bottom in multiple Next Gen Stats focused on average air yards, he completed 67% of his passes in 2019.
This also represents an interesting move for a Panthers team that has been linked to a possible run at Trevor Lawrence or Justin Fields in 2021. While Bridgewater will be tasked with taking over a team that has lost a lot of talent this year, he profiles as a quarterback talented enough to play Carolina out of the No. 1 or No. 2 draft slots — likely needed to secure Lawrence or Fields — next year.
Photo courtesy of USA Today Sports Images.
Follow @PFRumors