Aldon Smith has not played in an NFL game since the 2015 season. The Cowboys will nonetheless give the former Pro Bowler a chance.
Dallas and the former first-round edge rusher agreed on a one-year deal Wednesday night, Jay Glazer of Fox Sports tweets. While Smith has run into endless substance abuse-related trouble off the field, Glazer said the former 49ers standout is "clean and sober" at this point. He has been clean for nine months, Calvin Watkins of the Dallas Morning News tweets.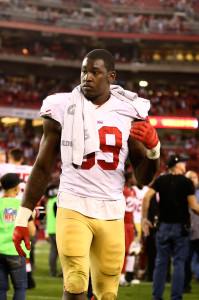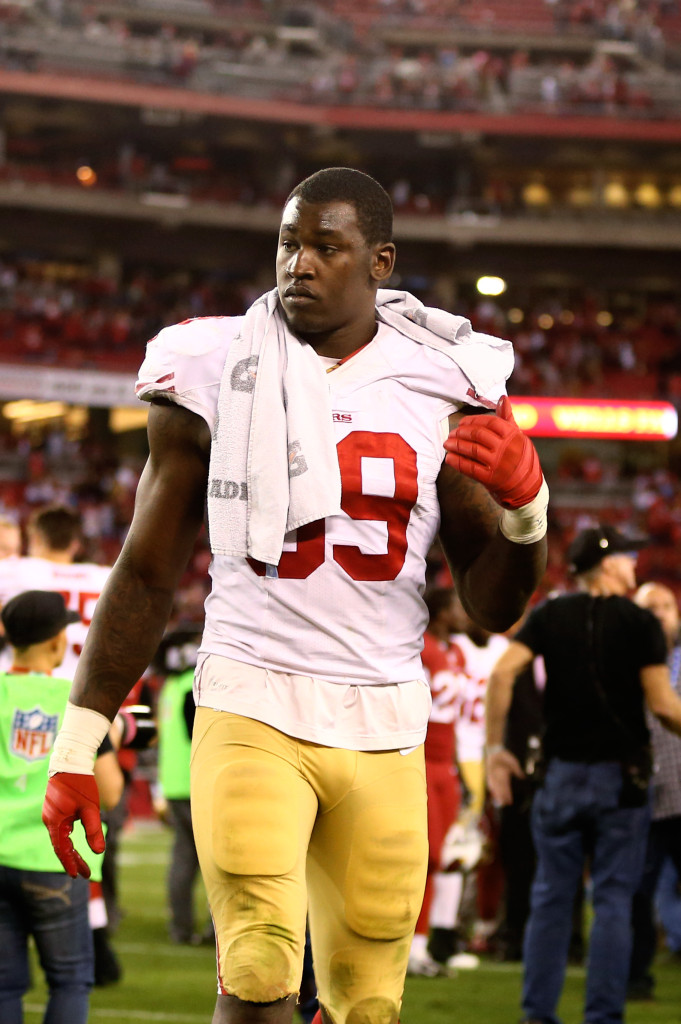 Interestingly, this is not a league-minimum deal. The Cowboys will give Smith $2MM in base salary and are including an additional $2MM in sack incentives, Mike Garafolo of NFL.com tweets. As could be expected, no guaranteed money is included here, Michael Gehlken of the Dallas Morning News adds.
Smith remains suspended indefinitely, but the Cowboys are clearly betting the new CBA will green-light his return to the league. The NFL denied a Smith reinstatement plea in December 2016. This is an interesting destination for Smith, because the Cowboys are making a similar bet with the oft-suspended Randy Gregory. The team is confident Gregory will be reinstated soon.
Smith, now 30, applied for reinstatement last month. He has not played in an NFL game since a Raiders-Vikings contest in mid-November 2015. Smith has been arrested more than a handful of times over the years, including several times since his indefinite suspension from the league. In addition to being banned under the substance-abuse policy, Smith has previously run afoul of the league's personal conduct guidelines.
The NFL's new CBA likely opened the door to this Cowboys move. This latest agreement features lesser penalties for non-PED positive drug tests, though DUIs will be dealt with more harshly. Smith, however, was arrested for suspicion of DUI in 2012, '13 and '15 — the final such incident leading to his 49ers release that year. This will be an interesting case for the NFL, but the Cowboys clearly believe Smith will be allowed back in the league.
The Cowboys may now be set to have two of the more frequent violators of the 2011 CBA's substance-abuse policy — Smith and Gregory — rushing the passer for them. This is not exactly an out-of-the-ordinary move for the organization. The Cowboys in recent years gave a second chance to Greg Hardy, acquired Pacman Jones after a full-season suspension, kept Rolando McClain around during his suspension bouts and are still hoping Gregory will be back.
The 49ers used their No. 7 overall pick on Smith in 2011, and he delivered superstar-level work in his first two seasons. Smith registered 14 sacks as a rookie and landed on the All-Pro first team in 2012, recording 19.5 sacks for a 49ers team that voyaged to Super Bowl XLVII. He posted 8.5 sacks in 2013 but recorded only 5.5 between abbreviated 2014 and '15 seasons. Smith latched on with the Raiders later in 2015, and Oakland re-signed him in 2016. Various off-field incidents prevented Smith from playing a second season with the Raiders.
Dallas let Robert Quinn walk in free agency and has not made it known a Michael Bennett re-up is on the table. If Smith is reinstated, he will reunite with his former position coach in San Francisco; Dallas hired Jim Tomsula to as defensive line coach this year. Tyrone Crawford has emerged as a possible starter opposite DeMarcus Lawrence. If that ends up being the case, the Cowboys would have one of the most interesting second-string defensive end tandems — if Gregory and Smith are allowed back into the league — in NFL history.
Photo courtesy of USA Today Sports Images.
Follow @PFRumors