Even amidst the uncertainty of the pandemic, the NFL plays to forge ahead with its 2020 season. This week, commissioner Roger Goodell reiterated that stance in a chat with Kairos CEO Ankur Jain.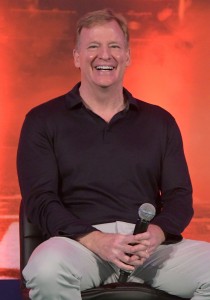 "The NFL is planning to play," Goodell said (link via the NFL on Instagram). "That's our hope, and that's our planning to date…We can help our country heal. We can help bring our communities together. We can provide hope."
Goodell also stressed that public safety is paramount to the NFL. Right now, it's hard to imagine a scenario in which the NFL launches its season in September exactly as planned. Even if social distancing regulations are relaxed by local and federal regulators, the threat of a new COVID-19 wave will likely linger.
In the meantime, the NFL has drastically altered its offseason plans while mostly keeping the scheduled milestones in place. NFL executives will conduct the NFL Draft at their individual homes. And, between now and April 23rd, they're conducting interviews with players via video conference.
President Trump has been pushing for the season to start on time, but there are many hurdles to clear between now and the fall. That goes for every city, but it's doubly true in Los Angeles. SoFi Stadium is behind schedule and less than certain to be ready for Week 1, leaving the Rams and Chargers in limbo.
Photo courtesy of USA Today Sports Images.
Follow @PFRumors