Will the Titans be the team to land Jadeveon Clowney? Titans GM Jon Robinson won't rule it out.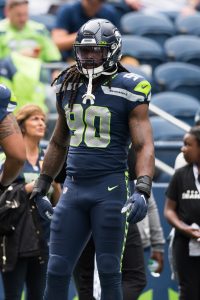 "We'll see," Robinson said (via Jim Wyatt of the team website). "Like I said a couple of weeks ago, we've had some discussions there and we've had some dialogue back and forth. You never close the door on anything."
So, there's a chance that the Titans will make a serious run at the former No. 1 overall pick, even though they're not the favorites to sign him. In a recent PFR poll, less than 8% of you predicted that Clowney would be heading to Nashville. By all accounts, the incumbent Seahawks and Browns (not necessarily in that order) are the most likely destinations for Clowney.
At one point, the Seahawks were offering Clowney a deal worth $13-$15MM per year. That could be enough, or close to enough, to get something done. Clowney has backed down from his initial ask of ~$20MM per season and, realistically, he'll have to scale back his expectations as time goes on.
The Titans currently have about $21MM in cap room, but their incoming draft class will chip away at that number. They could still eek out enough space for Clowney, but they might prefer to spend in another area after picking up Vic Beasley. Beasley, the No. 8 pick in the 2015 draft, tallied eight sacks last year. Clowney, meanwhile, had only three sacks.
Photo courtesy of USA Today Sports Images.
Follow @PFRumors