Dolphins quarterback Tua Tagovailoa and Panthers defensive lineman Derrick Brown have offset language in their contracts, according to Albert Breer of Sports Illustrated. So far, they're the only two first-round picks to have their deals in place, so that's an indication most of the Top 32 will follow suit.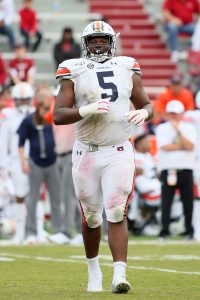 Rookie contracts for NFL draft picks are cut-and-dry, for the most part, thanks to the slotting system. However, offset language is usually the biggest barrier to an agreement. If a player with offset language is released midway through the contract and signs elsewhere, the original team is only on the hook for the difference in salary between the two deals. Without offset language, the player can effectively collect two paychecks. Naturally, agents try to preserve that potential earning power while owners push back.
Breer expects just about every first-round pick to make the same concession, except for Jaguars first-round picks C.J. Henderson (No. 9 overall) and K'Lavon Chaisson (No. 20 overall). Historically, the Jaguars have not pushed offsets on players, but most teams do. It would only make sense for teams to insist on offsets, particularly following this truly unprecedented evaluation period. In essence, offset language serves as a bit of insurance against the possibility of a draft bust.
On the whole, the Dolphins are excited about Tagovailoa's potential, despite his surgically-repaired hip and other past issues on his medical chart. In accordance with his slot at No. 5 overall, he'll make just over $30MM over the course of a four-year deal. Brown, meanwhile, is set to make just under $24MM over the course of his four year deal with the Panthers. As first round picks, both deals will include fifth-year options. They'll also come with a bit of extra protection, thanks to the offset language included within.
Photo courtesy of USA Today Sports Images.
Follow @PFRumors