Texans star edge rusher J.J. Watt is fresh out of guaranteed cash. Per the terms of the then-record-setting extension Watt signed in 2014, he is owed a base salary of $15.5MM in 2020 and $17.5MM in 2021, but those sums are completely non-guaranteed.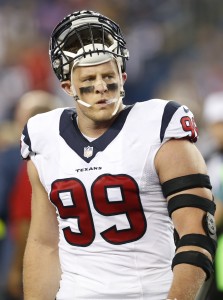 However, the 31-year-old is not looking for an extension. "No, I don't think [an extension is] necessary," Watt said (via Aaron Wilson of the Houston Chronicle). "I'm not going to sit here and demand anything. If I asked for an extension or money right now, I think that would be the wrong move."
And he's probably right about that. After all, despite his hefty salary, he is in zero danger of being cut, and if he turns in a strong 2020 campaign, he will be well-positioned to renegotiate his contract next offseason. Even if he struggles through injury again, it's still possible that the Texans would keep him on for the final year of his deal given his track record of excellence and his status with the team and community.
Watt, the No. 11 overall pick of the 2011 draft, quickly established himself as one of the premier defenders in the game, racking up four consecutive First Team All-Pro nods from 2012-15. He compiled a staggering 69 sacks over that four-year span, and he twice led the league in that category. But after he enjoyed perfect attendance throughout his first five years in the league, he was limited to just eight games over the 2016-17 seasons. Though he returned to his All-Pro form in 2018 — recording 16 sacks and a league-best seven forced fumbles in the process — a torn pectoral muscle limited him to eight regular season games in 2019.
Watt says he is healthy now, and he is not contemplating retirement anytime soon. For the time being, he is moving forward with his usual day-to-day mentality, and he believes the unique offseason will not impact him too much. "As long as you get yourself in the physical shape necessary, you'll be able to hit the ground running," he said.
A vintage season from Watt would go a long way towards a return to the postseason for the Texans.
Photo courtesy of USA Today Sports Images.
Follow @PFRumors