Giants cornerback DeAndre Baker is facing serious jail time for his alleged role in an armed robbery, but his lawyer continues to insist that the charges against him will be dismissed. This week, attorney Patrick Patel told Paul Schwartz of the New York Post that he has "at least two witnesses that will testify to Baker's innocence."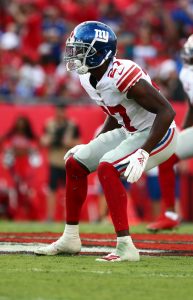 [RELATED: Baker, Dunbar Accused Of Armed Robbery]
Authorities say Baker and Seahawks cornerback Quinton Dunbar teamed up to rob partiers at gunpoint in May. The police report out of Miramar, Florida claims that Baker had the weapon while Dunbar did the looting. Some witnesses said that Baker also directed a third man to shoot someone (ultimately, no one at the scene was shot). Together, cops say the cornerbacks made off with ~$7K in cash, a $25K Hublot watch, an $18K Rolex, and an Audemars Piguet.
Baker is facing a total of eight charges – four counts of armed robbery with a firearm, plus four counts of aggravated assault. Each of the four armed robbery charges carry a mandatory minimum of 15 years in prison. Patel says the accusations against his client – a 2019 first-round pick – are without merit. Ditto for Dunbar's lawyer. Both defense attorneys have been adamant in their pre-trial defense and very accommodating to media inquiries over the last six weeks.
The Giants have kept Baker out of their virtual offseason activities and they may ask him to stay at home once they resume on-field workouts. Meanwhile, the Seahawks have allowed Dunbar to log on for their Zoom chats.
Photo courtesy of USA Today Sports Images.
Follow @PFRumors