Aaron Rodgers' heir apparent is officially in the fold. On Wednesday, the Packers officially announced the signing of quarterback Jordan Love.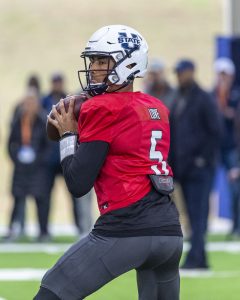 [RELATED: Packers Sign A.J. Dillon]
The Packers were rumored to be interested in the Utah State QB before the draft, but it was still a surprise to see them trade up to take Love in the first round. The Packers gave up pick No. 136 in the fourth-round to move up four spots, grabbing the promising youngster at No. 26 overall. In accordance with his slot, Love will earn $12.38MM over the full life of the four-year contract and collect a $5.56MM signing bonus.
Opinions were split on Love heading into the draft. He was viewed as a potential top pick after a dominant sophomore season where he averaged 8.6 yards per attempt with 32 touchdowns and six interceptions. Then, in 2019, Love regressed – he averaged just 7.2 yards per attempt with 20 touchdowns against 17 interceptions.
Meanwhile, no one's quite sure of what this means for Rodgers.
"I'm not going to talk about all that we talked about, but he was … let's just say surprised that they went in that direction," Rodgers' predecessor Brett Favre said in May. "I think he'll play somewhere else."
Favre's "gut" tells him that Rodgers won't finish his career in Green Bay. For now, he's under contract through 2023 with cap numbers in excess of $36MM in 2021 and '22.
With Love signed, the Packers have just three stragglers to go. Here's the full rundown of their draft class, via PFR's tracker:
1-26: Jordan Love, QB (Utah State): Signed
2-62: A.J. Dillon, RB (Boston College): Signed
3-94: Josiah Deguara, TE (Cincinnati)
5-175: Kamal Martin, LB (Minnesota)
6-192: Jon Runyan, G (Michigan): Signed
6-208: Jake Hanson, C (Oregon)
6-209: Simon Stepaniak, T (Indiana): Signed
7-236: Vernon Scott, S (TCU): Signed
7-242: Jonathan Garvin, DE (Miami): Signed
Photo courtesy of USA Today Sports Images.
Follow @PFRumors