Whether via trade or via the draft, there's a chance the Jets could bring in a new quarterback this offseason … meaning Sam Darnold would naturally find himself on the trade block. Sources tell Ralph Vacchiano of SNY.tv that the return for Darnold has "long been projected to be a second-round pick, plus maybe another mid-to-late rounder."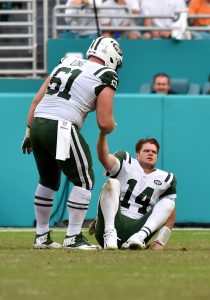 New head coach Robert Saleh and new offensive coordinator Mike LaFleur believe Darnold may have "untapped potential," but that apparently hasn't stopped teams from inquiring about the quarterback's availability. After all, this would seemingly be a prime opportunity for the team to restart at the position.
For starters, the team could easily select BYU quarterback Zach Wilson with the second-overall pick. Alternatively, the organization could make a run at Texans quarterback Deshaun Watson, who has continually been connected to the organization. To top it all off, the Jets are only months away from having to make a decision on Darnold's fifth-year option; that move would pay the quarterback around $25MM in 2022, and the two sides would still have to figure out a long-term pact.
Darnold hasn't necessarily been put in a position to succeed since being selected with the third-overall pick in the 2018 Draft. However, after taking a clear step forward in 2019, the 23-year-old may have taken two steps back in 2020. Darnold finished the campaign having connected on only 59.6-percent of his passes for 2,208 yards, nine touchdowns, and 11 interceptions. The Jets went 2-10 in his 12 starts.
As Vacchiano writes, the recent Carson Wentz trade (which saw the quarterback traded for a third-round pick and a conditional second-round pick) shouldn't have any impact on Darnold's value. This isn't much of a surprise; besides the shared position, the two players don't share similar situations. Wentz was significantly more expensive than Darnold, and he's also dealt with a long list of injuries. Darnold is significantly cheaper in 2021, although he hasn't come close to matching Wentz's on-field production.
"There are so many unknowns with Darnold," a source told Vacchiano. "He's got a ton of potential, but he's also had three years to show it. You're taking a chance that he'll be better away from the Jets, that he's not damaged goods. He probably will be good in a better situation.
"But then you've only got a year to figure him out before you have to pay him, too."
Photo courtesy of USA Today Sports Images.
Follow @PFRumors