The Eagles recently created some much-needed cap space by handing a new deal to center Jason Kelce and restructuring the contract of cornerback Darius Slay. Of course, the club still has plenty of work to do to get under the reduced 2021 salary cap, so the expectation is that right tackle Lane Johnson and defensive end Brandon Graham will soon see their deals reworked as well.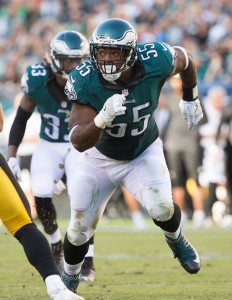 In fact, Geoff Mosher of InsideTheBirds.com says that Johnson has already agreed to a restructure, though if that's true, we don't yet have any details. Mosher confirms that the Eagles will address Graham's contract situation, and speculatively, that could mean an extension as opposed to a restructure.
As Mosher observes, these contractual machinations are nothing new for the Eagles, but the difference this year is that executive vice president of football operations Howie Roseman has been forced to rework the deals of players who are on the wrong side of 30 as opposed to younger talent. So if those players should experience a sudden decline or suffer a major injury, it will be more difficult for Philadelphia to get out from under their contracts (see, e.g., Alshon Jeffery). But most expect the salary cap to spike in 2022, and Roseman, like many execs around the league, is banking on that becoming a reality as they navigate this year's cap crunch.
Johnson, who will turn 31 in May, just agreed to a restructure at the start of the 2020 campaign, and his cap number for 2021 sits just shy of $18MM. He played in just seven games last year due to a painful ankle injury, but he earned Pro Bowl bids in each of the prior three seasons. Graham, meanwhile, has played in at least 15 games in each of the past nine seasons, and he is coming off his first career Pro Bowl nomination. The soon-to-be 33-year-old edge defender also has a 2021 cap number just under $18MM.
Kelce's new deal does indeed include dummy years, according to Mosher. That allows the Eagles to spread out his $9MM in guarantees, but player and team would need to agree to yet another restructure if Kelce — who has previously flirted with retirement — wants to return to the field in 2022.
In other Eagles news, the club is moving defensive end Genard Avery to linebacker, as Josh Alper of Pro Football Talk passes along. Philadelphia acquired Avery in a trade with the Browns in October 2019, but the 2018 fifth-rounder has seen limited defensive reps over the past several seasons. At just 250 pounds, Avery may have been miscast as a DE, and he will have a chance to remake himself as he enters the final year of his rookie contract.
He compiled 40 tackles and 4.5 sacks as a first-year pro in Cleveland in 2018 but totaled just 18 tackles and two sacks over the following two years.
Follow @PFRumors