One of the Eagles' many free agents has agreed to a deal that will allow him to stay with the team. The longest-tenured Eagle, Brandon Graham is coming back on a one-year agreement, Tim McManus of ESPN.com reports.
Graham is staying in Philly on a deal that could be worth up to $6MM. This will be the veteran defensive end's 14th season with the team, putting him in rare company. Only Chuck Bednarik has previously played that many seasons with the franchise.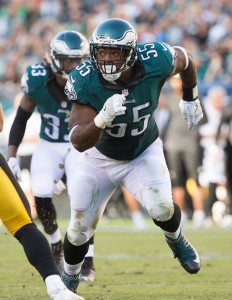 If Graham plays 11 games next season, he will have suited up for more contests than anyone in Eagles history. Though, Jason Kelce coming back would ignite a race to this honor; the acclaimed center is just two games behind Graham (178-176) in Eagles annals. Both are already in the top five in games played with the franchise.
With Graham going into his age-35 season, a lucrative free agency deal was unlikely to come to pass. That said, the former first-round pick was generating interest ahead of a potential trip to the market. Graham is coming off a career-best 11 sacks, helping the Eagles threaten the 1984 Bears' single-season sack record. That was Graham's first double-digit sack season; the rotational rusher will aim to tack on a second such campaign in 2023.
"I definitely don't want to miss out on this championship that we're about to make a run for," Graham said, via McManus. "I pretty much directed [my agent] Joel [Segal] just to get a deal done before free agency so I wouldn't have to go through that part. I'm just so happy everything came to fruition.
"It wasn't even about no money. It was more about wanting to be an Eagle as long as I could still play at a high level, and of course I still have a sour taste in my mouth on how things ended this last year."
The Eagles entered the offseason with three of their trench stalwarts — Graham, Kelce and Fletcher Cox — uncertain to be back. Kelce has not committed to playing a 13th season, and Cox is days away from free agency. Javon Hargrave is also on track to score a big payday next week. Graham will, however, rejoin a pass rush that still houses Haason Reddick and Josh Sweat. Derek Barnett is also under contract for 2023.
Graham said last year his goal was to reach the 15-season plateau, which would surpass Bednarik's franchise mark. (David Akers holds the team's games-played mark, at 188.) While the legendary two-way player's place in Eagles lore is practically unrivaled, Graham is responsible for one of the Eagles' signature plays. His strip of Tom Brady late in Super Bowl LII led to the Eagles' first championship since their Bednarik-led 1960 title. Graham has remained a quality rusher in the years since that momentous sequence, and this agreement will supply depth for the defending NFC champs at the very least.
Friday's agreement does represent a notable pay reduction for Graham, who previously played out a two-year deal worth $18.5MM. It could certainly help the Eagles retain some of their free agents. T.J. Edwards wants to stay with the team, which also aims to bring back C.J. Gardner-Johnson. While some of the Eagles' UFAs-to-be are likely leaving — most notably Hargrave and James Bradberry — others could be brought back. Graham's agreement would also leave some money on the table for Kelce to return.
For his career, Graham has 70 sacks and 21 forced fumbles. The sack number sits fourth in Eagles history. The starter/rotational performer sits six behind Clyde Simmons for third on that list.